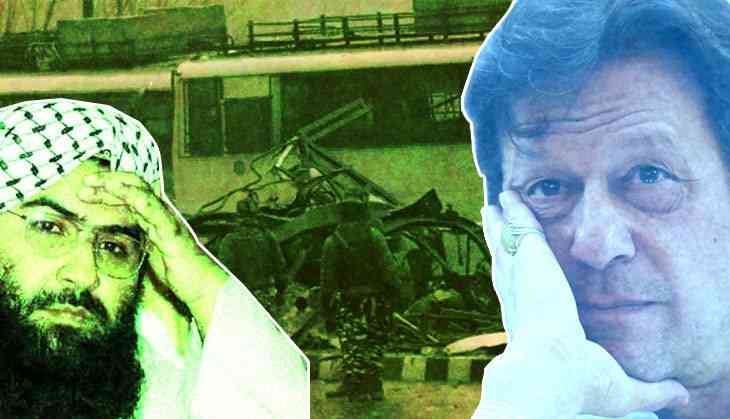 Pakistan's Prime Minister Imran Khan - who loves to talk about 'Naya Pakistan' - when spoke on Pulwama terror attack, he stuck to the old stand: Provide us with the proof and action will follow. The Mumbai terror attack and Pathankot terror attack seem to have missed out his attention as Pakistan has failed to act against the perpetrators of these attacks.
Not that we were really expecting a radical change in Pakistan's attitude this time around, but when Imran Khan did not bother to condemn the Pulwama terror attack which left 40 CRPF jawans dead, one thing became amply clear - army calls the major shots in Pakistan and Imran Khan appears to be in harmony with the ideology of his army.
Jaish-e-Mohammed is the proof
Immediately after the Pulwama terror attack, Jaish-e-Mohammed (JeM) took the responsibility and circulated a video celebrating their victory. But Imran Khan conveniently decided to ignore the proof. It is a well-known fact that Jaish-e-Mohammed and its leader Masood Azhar are based in Pakistan. But
Imran Khan, very much like the old regime, refuses to act against these perpetrators of terror.
If Imran would have been serious, he could have taken immediate action against JeM after chest-thumping by the terror outfit.
Probe offer is just a farce
In the light of International diplomatic pressure that India has managed to bring upon Pakistan, it was obvious that Pakistan would offer to probe the case, but such offers in the past have failed to bring about any tangible result.
Is Pakistan really bothered?
In spite of international pressure, Pakistan's statement shows its insensitivity, rather brazen approach, towards the whole issue. By not condemning the Pulwama terror attack, or not talking about JeM claim, Pakistan seems to be making a point – not really bothered about what the world thinks.
In fact, Pakistan knows that no matter what the world thinks about it, there is not much that can be done against it.
Pakistan - a necessary evil for major players
If we judge the political developments world over, Pakistan could rest assured that apart from rhetoric, nothing much is going against Pakistan, at least in the near future.
Saudi Arabia sees Pakistan as an important ally and heavily investing time and money in Pakistan. China has become an all-weather friend of Pakistan and willing to go to any length to safeguard JeM and its leadership. The US has condemned the attack and putting diplomatic pressure on Pakistan, but the world power has its own limitations - the US has decided to withdraw from Afghanistan and Pakistan has to play a major role in talks between Taliban and Afghanistan government. The US needs Pakistan, and Imran Khan knows this very well.
Even Russia, an old friend of India, has been closely involved with Pakistan recently, especially in joint military exercises.
Pakistan and JeM are showing every sign that they are not going to bow down under diplomatic pressure. No doubt, they had seen pressure coming and were aware that it would not reach them close enough to harm in any significant way. But, Pakistan should not forget that the real face of Pakistan is fast becoming evident to the world. Soon Pakistan will be forced to respect the norms of civil society. Till that time, India should continue to expose Pakistan in every possible way.
(This is an opinion article written by Manoj Kumar Rohilla, Catch News)