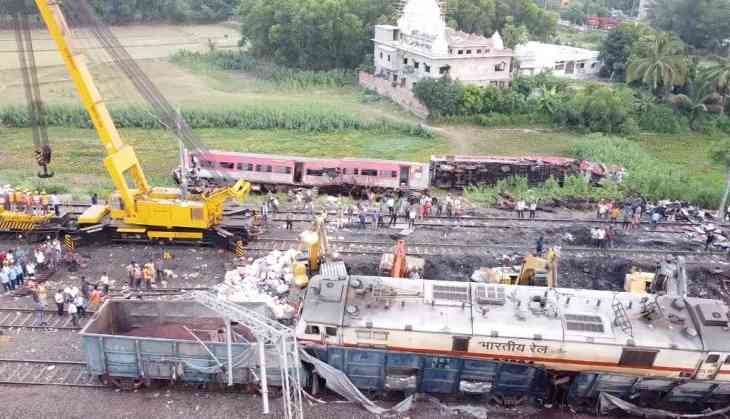 Restoration work after Odisha traina accident
Balasore (Odisha): The restoration work is underway at the Odisha's Balasore where two passenger trains and a goods carriage were involved in a horrific accident, leaving 288 passengers dead and injuring over 1,000 people. Chief Public Relations Officer (CPRO), of South Eastern Railway, Aditya Kumar said that the capsized bogies have been removed and the work of connecting the track is going on from one side.
"Capsized bogies have been removed...Two bogies of goods train also have been removed...work of connecting track is going on from one side...will finish the work as soon as possible," Aditya Kumar told ANI.
A special train from Balasore carrying passengers affected by the horrific accident and derailment on Friday, arrived in Chennai in the wee hours of Sunday, informed officials.
Earlier on Saturday, the Railways Ministry informed that the restoration work is ongoing at war footing in Odisha's Balasore. In a tweet, the Ministry of Railways said that the officials are closely monitoring the restoration process at the accident site.
"Restoration work is ongoing at Warfooting at the train accident site in Balasore, Odisha with 1000 Manpower working tirelessly. At present, more than 7 Poclain Machines, 2 Accident Relief Trains, and 3-4 Railway and Road Cranes have been deployed for early restoration. Officials are closely monitoring the restoration process at the accident site," read the post on the official Twitter handle of the Railways ministry.
The preliminary report on the tragedy said the three-way accident involved Bengaluru-Howrah Superfast Express, the Coromandel Express and a goods train on three separate tracks at Bahanaga Bazar Station in Balasore district.
As many as 17 coaches of these two passenger trains were derailed and severely damaged in the accident on Friday evening.
(ANI)