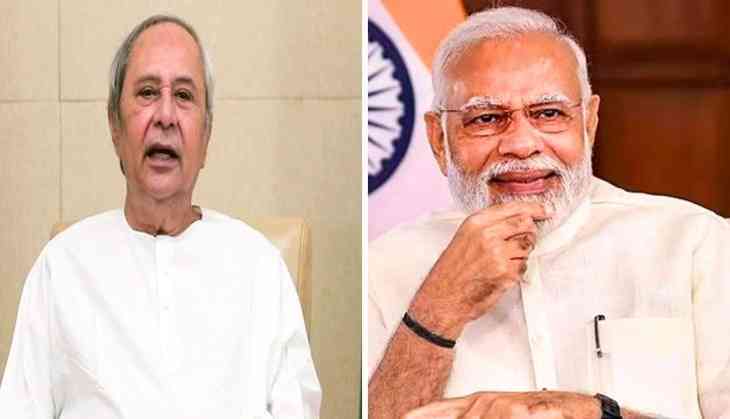 Odisha CM Naveen Patnaik lauds PM Modi
News Summary:
Odisha CM praises PM Modi's foreign policy and anti-corruption efforts.
Emphasizes the importance of state-central partnership for Odisha's development.
Rates Modi's government 8/10 for foreign policy and anti-corruption.
Supports Women Reservation Bill and women's empowerment initiatives.
Highlights "Mission Shakti" involving 7 million women.
Welcomes One Nation One Election concept, ready for both state and national polls.
Bhubaneswar (Odisha): Odisha Chief Minister Naveen Patnaik on Sunday praised Prime Minister Narendra Modi for his foreign policy and for rooting out the corruption in the country.
Patnaik was participating in an interactive session at the Odisha Literary Festival organised here in Bhubaneswar by the New Indian Express Group.
"We have cordial relationships with the centre, naturally we want the development of our state it's important to have the centre as a partner in the development," he said.
Rating Prime Minister Modi's government '8 out of 10', Patnaik said, "Whatever he has done for foreign policy and also in other matters too, there has been less corruption in this government, He helped in rooting out corruption and trying his very best to serve the people of our country."
On the passing of the Women Reservation Bill Patnaik said, "I think it very important step, my party has always been there for the development of women, my father began it by reserving 33 per cent of the seats in the local elections, we have increased that to 50 per cent and recently in last elections we reserved 33 per cent of our seats for women in parliamentary elections."
"Also we have a great programme called Mission Shakti in which 7 million of our women are involved for the empowerment of Women, economically and in other ways," Patnaik added On One Nation One Election Patnaik said "We always welcomed it, we are prepared for the elections for both bodies at any time."
Also Read:
Canada's Opposition leader condemns 'hateful comments' targeting Hindus, highlights their 'invaluable contribution'
(With ANI inputs)