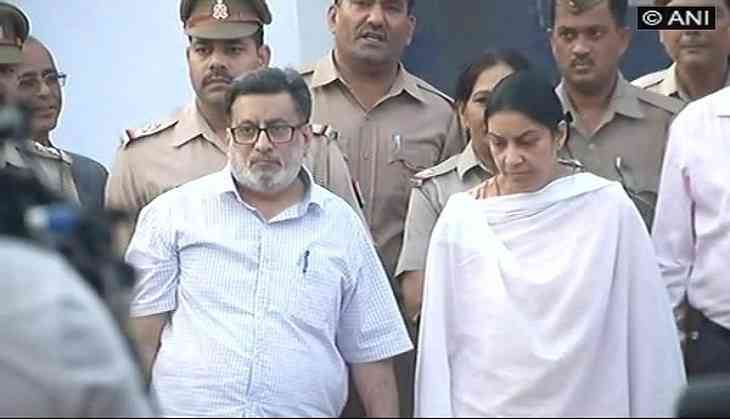 From Nupur and Rajesh Talwar finally walk free from jail to Pakistan's move to withdraw terrorism charges against Hafiz Saeed, here is the top 5 news of the day.
1- Aarushi murder case: Nupur, Rajesh Talwar finally walk free
Nupur and Rajesh Talwar, the parents of 14-year-old Aarushi, who was found murdered nine years ago in Noida, have finally walked free from the Dasna jail here after the prison authorities received the required court order.
Rajesh Talwar's brother Dinesh Talwar and their lawyers Manoj Sisodia and Tanveer Ahmed Mir went to the Dasna Jail to receive them.
2- Dropping terror charges against Hafiz Saeed exposes Pakistan's real face: Kashmiri activists
Pakistan's move to withdraw terrorism charges against Hafiz Saeed has drawn widespread criticism from exiled Kashmiri leaders who say that this is nothing more than a reflection of Pakistan's terror-supporting policies.
A co-founder of the Lashkar-e-Taiba and the Jamaat-ud-Dawah (JuD), Saeed was detained under the Anti-Terrorism Act (ATA) in January this year.
3- You will be shocked to know how much Mukesh Ambani earned from Jio
Even though, Mukesh Ambani's Reliance Jio is the newest company to enter the mobile-phone market still the company has managed to get more than 138.6 million subscribers in the world's most crowded market. Reliance has created a hype in the market by cutting the prices of its product.
Mukesh Ambani, who is one of the richest people in the world, has hacked the mobile-phone market by providing free data and voice call services last year. Ambani said that the company had gain profit before they began charging for interest and taxes.
4- India's Selena clinches triple gold at Egypt Junior and Cadet TT
India's young paddler Selena Selvakumar completed a golden sweep in the Egypt Junior and Cadet Table Tennis Open, adding the junior girls' singles and doubles titles at Sharm El Sheikh in Egypt late on Sunday evening.
The 17-year-old Chennai lass had claimed the Girls' Team gold earlier on Friday to make it three out of three; even more fantastically as she remained unbeaten all through this elite 2017 ITTF World Junior Circuit event.
Top-seeded Selena had to fight her way to the singles' gold though, with her last two matches against the Alhodaby sisters going all the way to the deciders.
5- This co-star of Aamir Khan and Shah Rukh Khan passes away
The veteran filmmaker and actor Lekh Tandon passed away on Sunday evening at his residence in Powai, Mumbai. The funeral of the actor will be held today on 16th October. However, the details of his death have not been revealed yet.
-with Agency inputs