A National Security Guard (NSG) qualified BSF constable, Arvind Sharma, has been reported missing for the last five days.
On 6 June, members of Arvind's family reported that they had no information about his whereabouts since they last spoke to him on the evening of 1 June, after he boarded the Kamakhya Special train from New Bangaigaon, Assam to New Delhi.
A missing persons report was registered in the matter on 5 June. Abhay Kumar Ojha, a friend of the family, took to Twitter to bring the incident to the attention of the Railway Ministry
The commando's cousin, Raj Sharma - a constable in the Railway Police Force - said that Arvind was scheduled to visit Delhi for official purposes after which he planned to visit his family in Buxar, Bihar.
His cousin said that Arvind was travelling in coach S5, seat number 55 of the Kamakhya Special train along with two of his colleagues, Anil and Manish.
On being contacted, Manish - a BSF personnel - said that he did not know Arvind too well but had booked his tickets for the journey since the three had left the BSF headquarters to travel to Delhi together.
Manish said he had helped Arvind with his luggage on the train. "Arvind was in coach S5 and we were in S4, he came to meet us for just two-three minutes and then left," Anil said. "I cannot confirm the time and station as I did not know that it was the last time we were meeting him," he added.
Raj said that when they tried to call Arvind's phone, someone answered the call but refused to speak.
His cousin said that during his time as an NSG commando, Arvind had served Lalu Prasad Yadav, Rajnath Singh, Mayawati and others for over five years.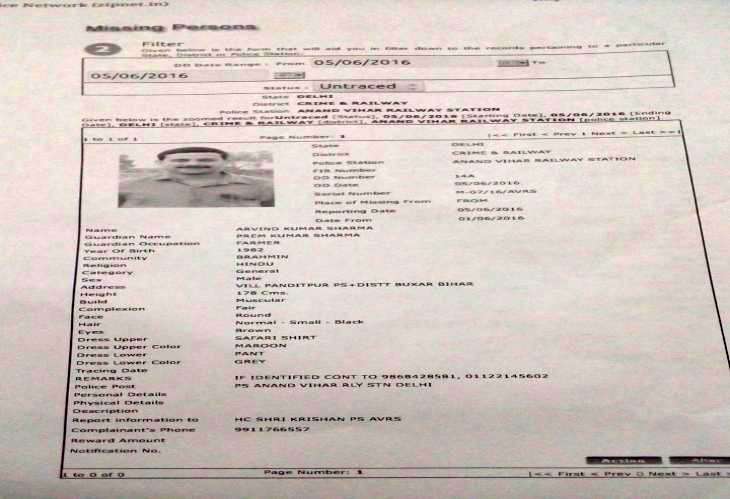 Copy of missing person's report