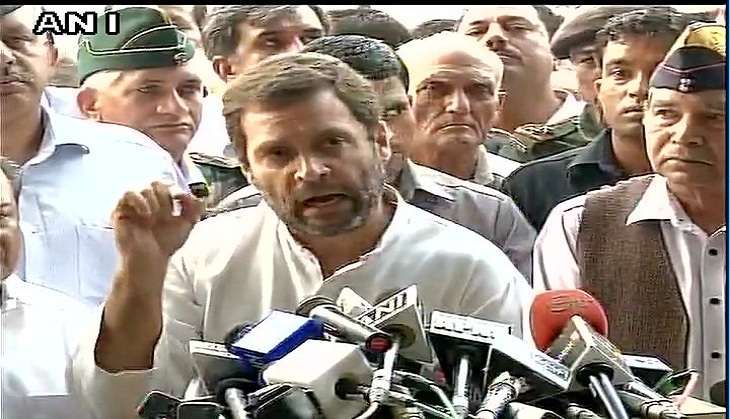 A day after Congress vice president Rahul Gandhi stood in a queue to exchange currency notes, party leader Kapil Sibal criticised Prime Minister Narendra Modi for not being in the country after he announced the demonetisation scheme. "In such a situation when the prime minister should be in India, he has gone to Japan," Sibal said.
The former Union Minister of Law and Justice criticised the government's announcement of putting a ceiling of Rs 4,000 on withdrawal and said, "It is not government's money or Modiji's money or BJP's money. The money belongs to the common man who has deposited it in a bank. My question is...account is mine, money is mine, then why should I stand in a line?"
Earlier in the day, Delhi Chief Minister Arvind Kejriwal questioned government's intent and said their intention is wrong. Modiji's surgical strike is not on black money instead the strike is on aam aadmi's savings. "Before the PM made the announcement, he alerted all his friends who possess black money and they have taken care of all of it," Kejriwal said.
Days after Prime Minister Narendra Modi announced the demonetisation of Rs 1000 and Rs 500 currency notes, Congress vice president Rahul Gandhi visited State Bank of India branch at the Parliament Street in New Delhi to exchange Rs 4,000 worth currency notes.
When bank authorities invited him inside, the Gandhi scion insisted that as the poor man is going through a lot of hardship, he has come to express his solidarity with them. "These people have been standing in the queue for hours. The poor man is going through hardship and I have come here to exchange Rs 4000. When I came here, the queue was moved inside, but I want to stand in queue," he said.
When Gandhi was reminded that the Prime Minister said those opposing the demonetisation scheme are on the side of black money hoarders, he replied: "Do you see anyone dressed in suit-boot? All those present here are upset, but Modiji is not at all worried about this."
When asked his opinion on the scheme, Gandhi said that media companies and their millionaire owners and even the Prime Minister will not understand the full extent of the move's effects.
"Poor people are going through a lot of hardship and I want to stand with them," he added.
During his visit, people waiting in queue surrounded the Congress vice president and took selfies with him. Accompanied by party spokesperson Shobha Oza and aide Kaushal Vidhyarthee, Rahul was eventually let inside the bank where he waited patiently with others.
Meanwhile, Congress accused the BJP government of creating financial chaos in the country and said that if people were alerted they could have ensured they had enough cash for their daily expenses. "There is not enough currency for the demand and banks are not being able to service the people. For the last two days, the economic activities have stalled in India. People are struggling outside banks across the nation," senior Congress leader Anand Sharma said. He added that nothing so absurd has been witnessed before.
After initially welcoming the decision, political parties are now speaking against the troubles caused by the scheme to the common folk. Head of BJP's ally Shiva Sena, Uddhav Thackeray also criticised the inconvenience caused to people by the sudden decision and claimed the government should have taken people into confidence before making the announcement.
After maintaining silence for almost two days, Delhi Chief Minister Arvind Kejriwal finally spoke on Thursday and criticised the Prime Minister for scrapping high-value currency notes.
The AAP national convener said there was chaos all around the country as people were mobbing banks to exchange or deposit their old currency. "Do you find black marketers in the queues? Or rich people? Those in the queues are traders, rickshaw pullers, autorickshaw drivers, farmers, workers. Are these the people with black money?" he said.
He went on to add that with the introduction of 2,000 rupee notes, life would be convenient for both bribe givers and takers and said, "Those who earlier took 100 notes of Rs. 1,000 notes will now carry only 50 notes of 2,000 value."