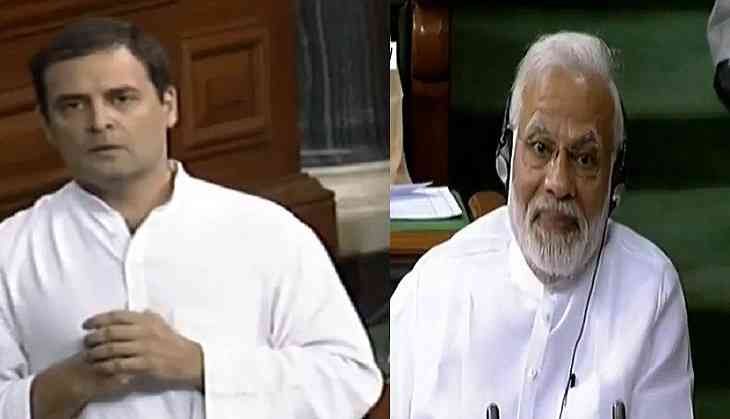 In Lok Sabha's no-trust motion debate on Friday, opposition lashed out on PM Modi-led government, including angry young man Rahul Gandhi who launched scathing attacks on PM Modi's government's 4 years report and called PM Modi's political weapon called "jumla strike" or empty promises.
Rahul Gandhi criticised Prime Minister Narendra Modi's renegotiation of the Rafale fighter jet deal with France. "The government took the Rafale contract away from Hindustan Aeronautics Ltd. and gave it to a business house that's never built a plane," he said. Gandhi also pointed out that the Goods and Services Tax (GST) was originally the Congress Party's idea.
"The PM doesn't listen to small businesses. The powers that help Modi, the 10-15 big businessmen, he only works for them. There's no place in his heart for the common people of India," said Rahul Gandhi.
BJP calls me 'Pappu', but I don't hate them the least bit. He also took a dig at PM Modi's silence over assaults on Dalits, tribals, minorities and women. Rahul Gandhi hugged PM Modi after completing his speech.
Here are the highlights of Rahul Gandhi's scathing attacks during no-trust votes in the Parliament
Jobs, Demonetisation, And GST
-Andhra Pradesh has been a victim of PM Narendra Modi's political weapon called the 'jumla strikes'.
-Jobs will come from small and medium enterprises, setting up of shops, construction sector. Instead, the PM Narendra Modi government chose to enforce the demonetisation. Farmers, labour, and poor were affected by demonetisation.
-BJP makes fake promises: Rs 15 lakh in each bank account, two crore jobs a year were BJP's prime promises, of which only four lakh youth got new jobs in the financial year 2016.
-PM Narendra Modi, as the then Gujarat chief minister, opposed what was a single-tax GST; he instead enacted a complex GST as the Prime Minister.
Debt Waivers, Farmers
-Modi government chose to write-off corporate bad loans and reject farmers loan waivers. They have been ignoring them as they do not wear a 'suit' or a 'boot'.
-Newest 'jumla strike' of PM Modi government was of minimum support prices announcement.
Rafale Deal:
-PM Modi re-negotiated Rafale deal to Rs 1,600 crore per aircraft from Rs 520 crore as struck by the UPA government.
-French President made it clear that details of the Rafale deal could be disclosed in India.
-Defence Minister Nirmala Sitharaman has clearly spoken an "untruth".
Also read: No-Confidence Motion: Rahul Gandhi gives 'Jadu ki Jappi' to PM Modi after concluding his speech in Lok Sabha during no-trust debate; see video