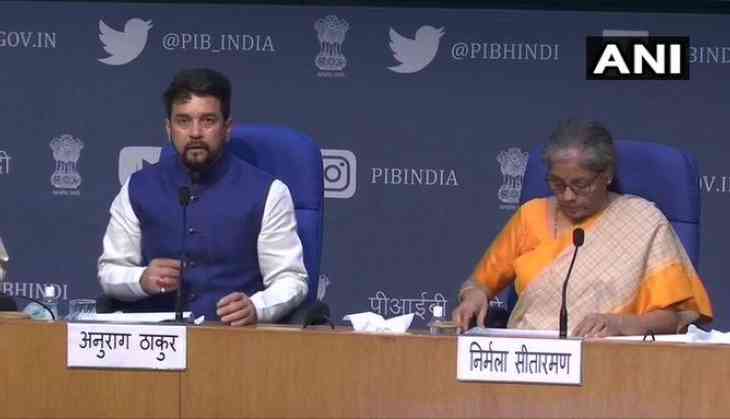 Finance Minister Nirmala Sitharaman on Thursday stated that the Indian economy is seeing a strong recuperation following a lengthy and stern lockdown.
Addressing the media to announce more stimulus course to augment growth, she stated that macro-economic indicators are pointing towards recovery.
The Finance Minister's address came a day after the Union Cabinet approved a Rs 2 lakh crore production-linked incentive (PLI) package to boost demand in the country.
Here are the top highlights from FM's press conference:
-Rs 900 crore provided for Covid Suraksha Mission for research and development of the Indian Covid-19 vaccine to the Department of Biotechnology.
-Rs 3,000 crore will be given to EXIM Bank for promotion of project exports through Lines of Credit under IDEAS Scheme.
-An additional outlay of Rs 10,000 crores will be given for PM Garib Kalyan Rozgar Yojana in the current financial year, to increase rural employment.
-Rs 65,000 crore to be given for subsidised fertlisers. This will help 140 million farmers.
-For primary residential real estate sales, relief on the difference between circle rate and agreement value up to 20% vs 10% earlier.
-Income tax relief for developers and home buyers.
-Support for Construction and Infrastructure-Performance security on contract to be lowered to 3% instead of 5%. Earnest Money Deposit will not be required for tenders and will be replaced by Bid Security Declaration. Relaxations will be given till 31st December 2021.
-This extra budgetary resource being provided will help 12 Lakh houses to be grounded and 18 Lakh houses will get completed as a result.
-Rs 18,000 crore will be provided over and above the budget estimate which was mentioned in the Budget 2020-21 under Pradhan Mantri Awas Yojana. particularly for the urban areas.
-Rs 1.46 lakh crore boost for Aatmanirbhar Manufacturing Production-linked incentive for 10 champion sectors.
-Guaranteed credit support for 26 stressed sectors identified by the Kamath Committee. Original ECLGS had one year of moratorium and 4 years of repayment, the new scheme will have 1-year moratorium and 5 years of repayment.
-The existing Emergency Credit Line Guarantee Scheme extended till 31st March 2021.
-If new employees of requisite number are recruited from October 1, 2020 to June 30, 2021, the establishments will be covered for the next two years
-Every EPFO registered organisations, if they take in new employees or those who had lost jobs b/1 March 1 and Septemer 30 - these employees will get benefits.
-Establishments registering with EPFO after the commencement of Scheme to get subsidy for all new employees. Scheme to be in operation till 30th June 2021.
-Pradhan Mantri Rozgar Protsahan Yojana was put into effect up to 31.03.2019. It had covered all sectors and is expected to run for 3 years. So even if someone joined the scheme on 31.03.2019, they would be covered under that existing scheme from then three years.
-Atmanirbhar Bharat 3.0: Finance Minister announced new job scheme called Atma Nirbhar Rozgar Yojana to create jobs in the country. The new scheme will be effective from 1 October 2020.
-Rs 1,32,800 crores have gone as income tax refunds to 39.7 lakh taxpayers.
-SBI Utsav cards being issued, under the festival advance scheme announced on 12th October eleven states sanctioned Rs 3,621 crores as an interest-free loan towards capital expenditure.
-Under the Emergency Credit Liquidity Guarantee Scheme, a total amount of Rs 2.05 lakh crores has been sanctioned to 61 lakh borrowers, out of which Rs 1.52 lakh crores has been disbursed.
-Rs 7,227 crores disbursed under the Special Liquidity Scheme for NBFCs/HFC.
-Credit boost has been given to 2.5 crore farmers via Kisan Credit Cards, Rs 1.4 lakh crores has been handed out to farmers.
-Rs 25,000 crores has been disbursed to farmers from Additional Emergency Working Capital Funding through NABARD.
-The work has commenced on creating a portal for migrant workers.
-There has been very good progress on 'One Nation-One Ration Card' in 28 states covering 68.8 crore beneficiaries.
-About 157.44 lakh eligible farmers have received Kisan Credit Cards and sanctioned a limit of Rs 1,43,262 crore in two phases.
-26.2 lakh loan applications were received under the PM SVANidhi scheme for street vendors.
-Bank credit growth is up 5.1%; markets are at a record high.
Also Read: RBI predicts strong likelihood of Indian economy returning to positive growth in Q3: Sitharaman