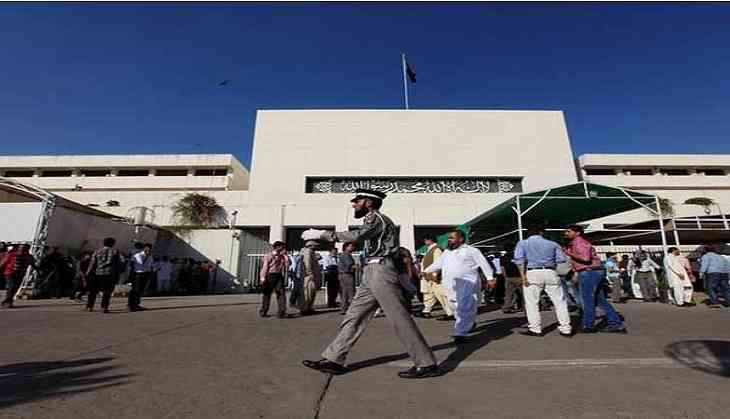 The Pakistan National Assembly called by President Mamnoon Hussain has initiated the process of electing a new premier after the Supreme Court disqualified Nawaz Sharif from holding office.
The PML-N had agreed upon Shahid Khaqan Abbasi, the former petroleum minister, as its candidate for interim prime minister. PML-N itself has more than the required number of 172 members in the house of 342.
PML-N's ally Jamiat Ulema-e-Islam has also announced to back Abbasi.
Hours befor ethe National Assembly session,Muttahida Qaumi Movement (MQM) has withdrawan its candidate Kishwar Zehra in favour of the PML-N nominee Shahid Khaqan Abbasi, DawnNews reported.
MQM leader Dr Farooq Sattar announced the party's decision in a joint press conference after a meeting with PML-N leaders in the federal capital on Tuesday.
Abbasi is expected to take over as interim prime minister until Shahbaz Sharif is elected to the Parliament, and then to the prime minister's office.
Shahbaz will likely seek election to the National Assembly from Nawaz Sharif's constituency, which is a PML-N stronghold.
The Election Commission of Pakistan (ECP) on Tuesday announced September 17 as the date for holding election for NA-120 by-polls, which was left vacant after the disqualification of former prime minister Nawaz Sharif by the Supreme Court .
According to ECP, the candidates will be able to submit their nomination papers between August 10-12. The ECP will review nomination papers between August 15-17.
Punjab Chief Minister Shehbaz Sharif and Dr Yasmeen Rashid who are expected to contest the election on tickets of PML-N and Pakistan Tehreek-i-Insaaf, respectively can file their nomination papers between August 10-12, according to the election schedule released by ECP.
-ANI