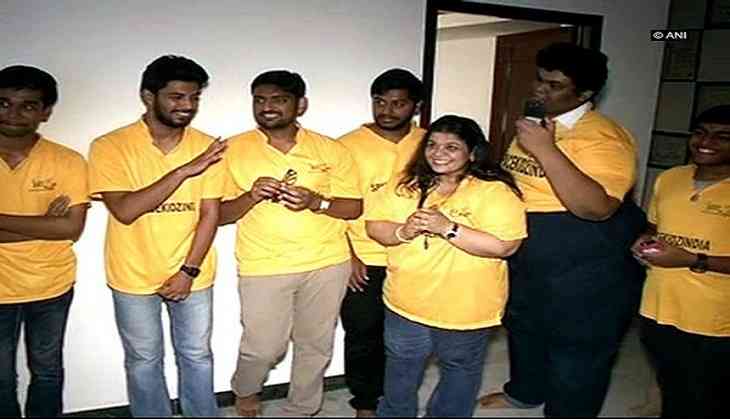 A team of students from Space Kidz India in Chennai, who built the world's smallest satellite called 'KalamSat', rejoiced after its launch by the National Aeronautics and Space Administration (NASA) today.
The satellite weighs only 64 grams.
A NASA sounding rocket carried the KalamSat from Wallops Island, a NASA facility.
The team led by Rifath Sharook, an Indian teenager hailing from Tamil Nadu's Pallapatti, created the smallest and lightest satellite in the world for NASA.
They have broken a global space record by launching the satellite.
"It's a 3-D printed satellite. It is for the first time that 3-D printing technology is being used in space. We have made history. The world's smallest satellite has been launched in space. It was not possible without my team," Sharook told ANI.
He added that he participated in a competition 'Cubes in Space' jointly organised by NASA and an organisation called 'I Doodle Learning' and his project was selected.
Under the supervision of Dr. Srimathy Kesan, founder and CEO of Space Kidz India, a team of seven led by Sharook, built the satellite.
"It's basically to pave way for a lot of students to think that nothing will stop or interrupt their thought process. Anything small would really begin, but it will take you to space and space is not unreachable. You just need to work a little bit harder. Space has got no boundaries and therefore, let's all do research together and let's conquer Mars soon," Kesan said.
She added that at the end of this year the team will come up with a big mission and they are working on that.
"Hopefully, we will be able to tell the world our next record," Kesan said.
As the name of the satellite suggests, ' KalamSat' is named after India's nuclear scientist and former president, APJ Abdul Kalam.
Rifath's project is the first to be manufactured via 3-D printing.
-ANI