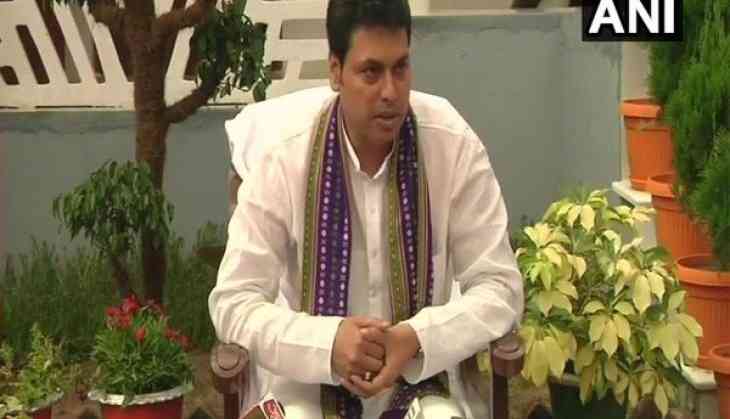 Tripura's former minister and Bharatiya Janata Party (BJP) Member of Legislative Assembly (MLA) Ratan Chakraborty has claimed that Myanmar-based drug peddlers have hatched a plot to kill state Chief Minister Biplab Kumar Deb.
Chakraborty further claimed that the drug kingpins recently had a meeting in Myanmar's capital Naypyidaw to eliminate Deb.
Deb, after coming to power, had earlier launched a massive operation against drugs.
During his tenure, security forces in Tripura have seized more than 41,000 kilograms of marijuana, 80,000 bottles of contraband cough syrup, 1.35 lakh tablets (including Yuba manufactured in Myanmar), two-kilogram heroin, and 620-gram brown sugar and arrested more than 250 drug peddlers.
Addressing a press conference at the BJP headquarters here, Chakraborty said, "The Union Home Ministry is very worried as Asia's top kingpin and drug peddlers had organised a meeting at Myanmar capital and decided to eliminate Biplab Kumar Deb."
He further said, "They have declared the death penalty for him. So, the Union Home Minister also sat on an urgent meeting and informed and alerted the state Home Ministry. As he had launched the operation in Tripura against the drug mafias, they may even try to take his life."
He also alleged that the former Communist Party of India (Marxist) (CPI-M)-led Left Front government and its leaders have been aiding the drug mafias who have been operating free during that period. Chakraborty added that as soon as the new BJP-IPFT government came to power, the Chief Minister declared to make Tripura a drug-free state.
As a result of all these, the drugs mafias are hatching a conspiracy to eliminate the Chief Minister of the state, said Chakraborty who was accompanied by another MLA Rampada Jamatia and BJP senior leader Pratima Bhowmik.
(ANI)