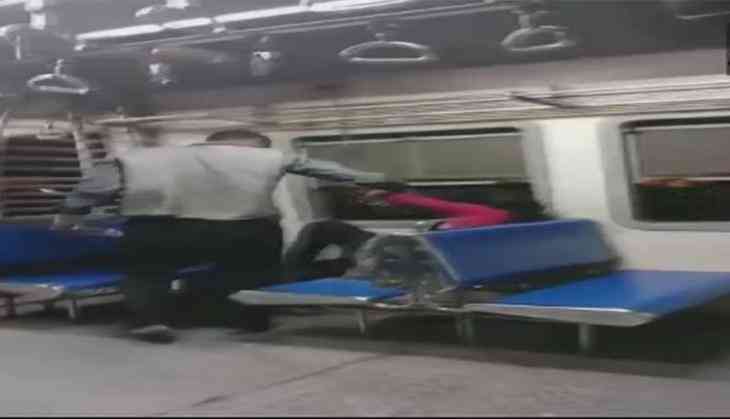 In a horrific incident, Mumbai woman was allegedly molested and thrashed by a man in moving the local train. The man beat up the woman in the local train between Thane-CST on Thursday night. The incident took place in a handicapped compartment of the local as passengers mourned and watch the video.
In no time the video of the incident went viral on social media and was shared widely by the users. No passengers came forward to help her or even tried to pull the chain.
According to the Government Railway Police Force (GRPF), the woman and the assailant were not strangers and were not differently-abled. A few reports claimed that the duo was a married couple, however, it isn't cleared yet. The incident reportedly took place between 11 pm and 11:22 pm on Thursday night.
In the video, the man is seen trying to overpower a woman and beat her, while she tries to fight back. In her defence, a woman tries to run and comes dangerously close to the local train's door. Which was open.
According to report, the GRPF also said that a co-passenger, who shot the video, boarded the local train from Thane station at around 11 pm on Thursday, when the man "started cruelly assaulting" a woman.
#Mumbai: A woman molested by a man onboard a local train, plying from Thane to Chhatrapati Shivaji Terminus railway station, last night. Man arrested at Dadar railway station, case registered. pic.twitter.com/CqePInN2Q3

— ANI (@ANI) April 6, 2018
The co-passengers in the local train informed the Dadar police who then arrested the man. A case of attempt to murder and molestation has been booked under Section 307 of the IPC. The man reportedly been filed against the man, said police
One of the passengers on the train told a leading daily that, "I being 90% disabled could not do much to help as there was a threat to my life if I intervened. I asked the security person, who was in the ladies compartment, to pull the emergency alarm but he did not respond," he said.
According to the eyewitness, who shot the video, there was a constable in the next coach but he was unable to intervene as the train was moving and the coaches were separated by a barricade.
Also read: BJP 38th Foundation Day Updates: Amit Shah reaches BKC venue, to address 300000 workers at MMRDA ground at 12 PM; Mumbai's traffic disrupted