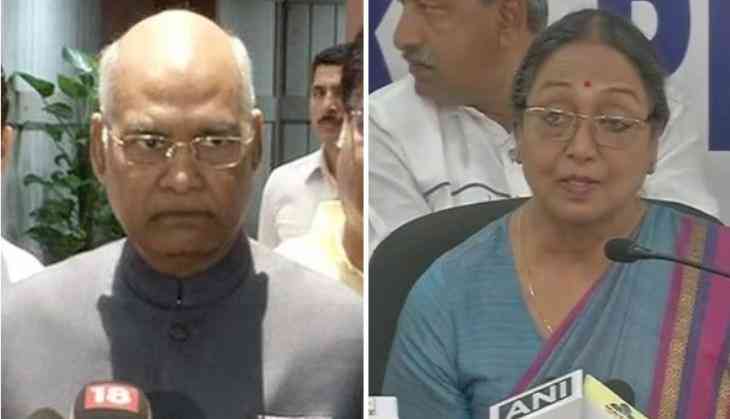 MPs, MLAs to vote for Presidential election today (ANI)
The elected representative of the Parliament and various state assemblies on Monday will vote to elect India's next President.
There are two candidates in the fray for the coveted post- National Democratic Alliance (NDA) candidate Ram Nath Kovind and United Progressive Alliance (UPA) candidate Meira Kumar. President Pranab Mukherjee's term is expiring on July 25.
In the last presidential election in 2012, Pranab Mukherjee had defeated P.A. Sangma and got over 69 per cent votes.
Ram Nath Kovind, former Governor of Bihar, was announced as the Bharatiya Janata Party (BJP)-led NDA's candidate for the post of President of India by BJP president Amit Shah on June 19 2017. Kovind is a leader and a politician from the BJP. Kovind filed his nomination for the election on June 23, 2017.
Meira Kumar, the former Speaker of Lok Sabha, was announced as the Indian National Congress (INC)-lead opposition's candidate for the post of President of India, after a meeting held on the June 22, 2017.
Both Kovind and Kumar are from the Dalit community and have canvassed hard by visiting states to seek support of legislators.
The president is elected by an electoral college consisting of the elected members of both houses of parliament, the elected members of the Legislative assemblies of the 29 states and the elected members of the legislative assemblies of the Union Territories of Delhi and Puducherry. As of 2017, the electoral college comprises 776 MPs (Members of Parliament) and 4120 MLAs (Members of Legislative Assembly).
The total strength of Electoral college is 10,98,903 votes. Members of Legislative Council (MLCs) don't take part in the election of President of India.
The value of an MLA's vote depends on the population of the state he or she represents. But the value of the vote of an MP does not vary -- it is 708.
Though the poll result will be announced on July 20, it is expected that Kovind will emerge as winner as he has also support of non- NDA parties like All India Anna Dravida Munnetra Kazhagam (AIADMK), Yuvajana Shramika Rythu Congress Party (YSRCP), Janata Dal- United (JD-U), Biju Janata Dal (BJD), Telangana Rashtra Samithi (TRS), Indian National Lok Dal (INLD) and independents.
In terms of the percentage, the total electoral votes come to over 60 percent in favour of Kovind, which is much higher than the requisite 50 percent.
UPA candidate Meira Kumar has support of parties like Indian National Congress (INC), The Nationalist Congress Party ( NCP), Samajwadi Party (SP), Bahujan Samajwadi Party ( BSP), Aam Aadmi Party ( AAP), Rashtirya Janata Dal (RJD), All India Trinamool Congress (AITC), Communist Party of India- Marxist (CPI-M), Dravida Munnetra Kazhagam (DMK), The Indian Union Muslim League (IUML), Revolutionary Socialist Party (R SP), Kerala Congress (M) (KC-M), The All India United Democratic Front (AIUDF), The Janata Dal (Secular) (JDS), Jharkhand Mukti Morcha (JMM), The All India Majlis-e-Ittehad-ul Muslimeen (AIMIM), Communist Party of India (CPI), Jammua and Kashmir National Conference (JKNC).
Though the Aam Aadmi Party has declared its support to Kumar, its leader H.S. Phoolka, who has handled several 1984 anti-Sikh riots cases, has said he would abstain as he cannot vote for the Congress.
The total electoral votes of these parties are over 39 percent.
The voting will be held between 10:00 am and 5:00 pm. Paper ballots will be used in the presidential election and the votes will be valid only if the special violet ink pen is used to vote.
The MPs will vote on Green ballots and the MLAs will vote on pink ballots. Ballot boxes from states will be flown and stored in Room 62 of the Parliament.
Since many MPS are not present in New Delhi and many MLAs are not present in their respective states, so the Election Commission of India (ECI) on Sunday allowed a concession to some of such MPs and MLAs.
The ECI allowed Bharatiya Janata Party (BJP) president Amit Shah, an MLA from Gujarat and former Assam chief minister Tarun Gogoi to cast their votes from New Delhi for tomorrow's Presidential elections.
Besides these two, 14 Rajya Sabha members and 41 Lok Sabha members have also been permitted to cast their votes in the states of their preference. Most of the MPs who would vote in their respective assemblies belong to the Trinamool Congress.
Lok Sabha MP and Uttar Pradesh Chief Minister Yogi Adityanath and Deputy Chief Minister Keshav Prasad Maurya, and Goa Chief Minister Manohar Parrikar have been permitted to cast their votes in their state as they have not yet given up their Parliament membership. While Parrikar is a Rajya Sabha member, Adityanath and Maurya are Lok Sabha members.
-ANI