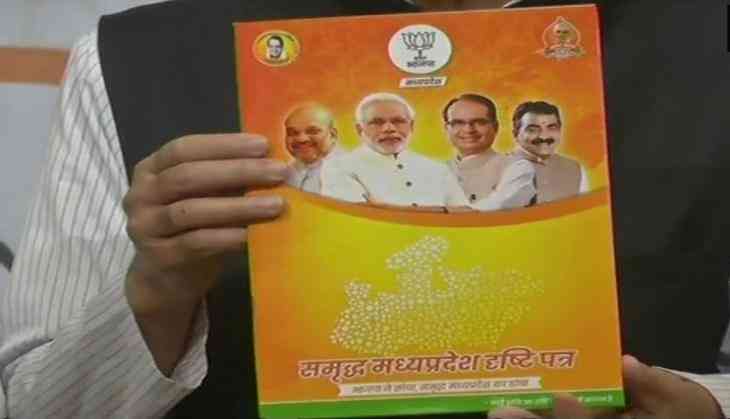 The Bhartiya Janta Praty has released its poll Manifesto ahead of the assembly elections in Madhya Pradesh on Saturday. Union Minister and senior BJP leader Arun Jaitley, CM Shivraj Singh Chouhan released the Manifesto 'Drishtipatra'.
The BJP manifesto has loan waiver for farmers within 10 days after it retains the power in the state, Gaushalas, employment opportunities to 10 lakhs youths every year, are among the major promises made by the saffron party.
Bhopal: Union Minister and BJP leader Arun Jaitley and Madhya Pradesh Chief Minister Shivraj Singh Chouhan release party's vision document ahead of 28th November Madhya Pradesh Assembly elections. pic.twitter.com/O11ddXW8mZ

— ANI (@ANI) November 17, 2018
Here's what BJP manifesto 'Drashtipatra' has promise for the people:
# Rs 10,000 grant to unemployed people. Homeless people to get Rs 2.50 lakh grant.
# Loan waiver for farmers within 10 days of the formation of the government.
# Government to give Rs 51,000 grant for the marriage of a daughter. Pension for women to be raised from Rs 300 to Rs 1000.
# Rs 100 waiver on the price of LPG.
# Gaushalas in every village.
# Special commission to probe corruption cases to be set up.
# Topper students to be provided laptops.
# Employment opportunity to 10 lakh youths every year. Young entrepreneurs to get government help for start-up. New industrial township to come up.
# For women empowerment, special attention towards self-employment. A separate manifesto called 'Nari Shakti Sankalp Patra' mentions details of steps planned for women welfare.
# Development of Narmada Expressway, Chambal Expressway and Industrial Corridor. Power generation to be ramped up to 14000 MW. Metro train project. Piped drinking water supply in rural areas.
Earlier, Congress released it Manifesto for Madhya Pradesh assembly that has mentioned that if it comes to power, then it will ban Rashtriya Swayamsevak Sangh (RSS) branch from all the government's offices and premises in the state. It has also promised the people of Gaushalas in the state
The Madhya Pradesh in ruled under BJP for last 15 years and incumbent Chief Minister Shivraj Singh Chouhan took over the reins of power on 29 November 2005.
The assembly polls in Madhya Pradesh for 230 constituencies seats is scheduled on 28 November and the counting of votes will be on 11 December.
Also read: MP Assembly Election 2018: Finance Minister Arun Jaitley and CM Shivraj Singh Chouhan releases BJP Manifesto 'Drishtipatra' ahead of polls