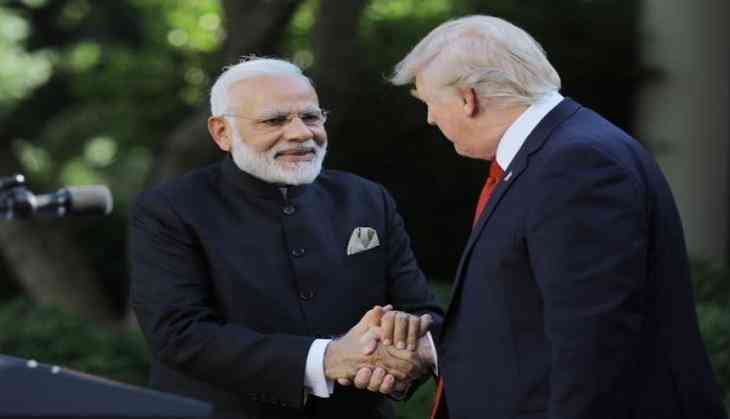 India on Thursday played down the usage of "Indian-administered Jammu and Kashmir" by the United States in a statement issued during the visit of Prime Minister Narendra Modi, saying similar terms have been used in the past also.
On Monday, while designating Hizbul Mujahideen chief Syed Salahuddin as a "Specially Designated Global Terrorist", the US State Department had said the militant group had claimed responsibility for several attacks, including the April 2014 explosives attack in "Indian-administered Jammu and Kashmir", which injured 17 persons.
Responding to a media query, External Affairs Ministry Spokesperson Gopal Baglay said the use of the term 'Indian- administered Jammu and Kashmir' merely affirmed Indian position that Syed Salahuddin had been involved in cross-border terrorism against India.
"Similar term has been used in the State Department's country reports on terrorism brought out every year, including in the period 2010-2013, in the context of cross-border terrorism perpetrated on India. India's consistent position that the entire state of Jammu and Kashmir is an integral part of India is well known," he said.
Baglay said India has welcomed the designation of Syed Salahuddin as a Specially Designated Global Terrorist by the US Administration and added that this long-awaited step had been under discussion.
"The Joint Statement issued on June 26, 2017 after Prime Minister's talks with US President Trump is the strongest joint expression of the commitment of the two sides to be shoulder-to-shoulder in the fight against terrorism and calls on Pakistan to ensure that its territory is not used to launch terrorist attacks on other countries," he said.
Congress leader P Chidambaram had on Wednesday questioned the Narendra Modi government over the US describing Jammu and Kashmir as "Indian-administered" in an official statement and had asked how New Delhi accepted it.
"US official statement used the phrase 'Indian- administered Jammu and Kashmir'. How did India accept this?" the Congress leader had asked in a tweet.
-ANI