Somi Das
| Updated on: 10 February 2017, 1:48 IST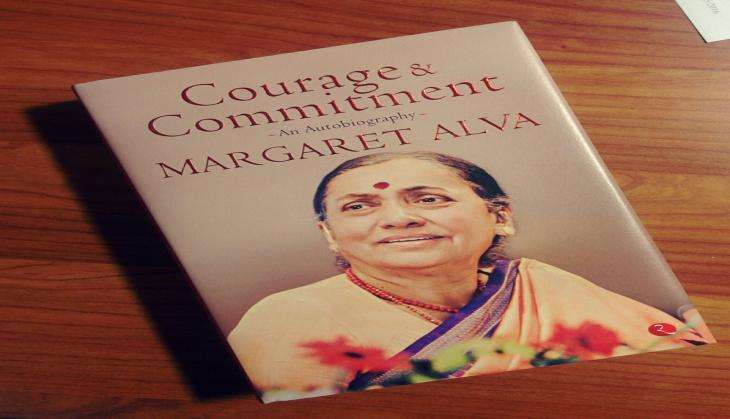 In 2014, the Congress party touched a historic low, winning a mere 44 seats in the general elections, making way for the Narendra Modi-led BJP to form a government with a thumping majority.
The decline, though, wasn't sudden. It was steady, and many had internally portended the bleak scenario that the grand old party finds itself in.
Courage and Commitment,a book by Margaret Alva, a fierce Gandhi family loyalist-turned-Sonia critic, reinforces what has always been said by political pundits - that the Congress high command needs to come out of the comforts of its coterie, and connect with the grassroot worker.
Alva's book offers an amazing insight into the maneuverings of 10 Janpath - the home of Congress president Sonia Gandhi. Without being too harsh, Alva clearly indicts Gandhi for lacking transparency in her manner of functioning, her penchant for surrounding herself with a handful of loyalists, and for forgetting promises made to people who have been useful to her.
Alva reproduces in the book a letter she had written when she was asked to resign from the post of All India Congress Committee General Secretary, sometime in 2009. This was following her outburst in the media about the unfair manner in which tickets were distributed in Karnataka.
She writes: "Times have changed and for the first time I have come to feel like a misfit in an organisation that I considered as precious as my own home. A look at our recent candidates lists show a distinct pattern of patronages to the wealthy and rich lobbies like mining, education and real-estate...
It is hard to function through intermediaries because we never seem to know when and which message is yours and what you want done. I have now come to realise that I am out of tune with the decision-makers around you."
She further writes about how a call from Sonia lasting a few seconds sealed her fate, and marked her exit from Delhi, something she claimed her opponents within the party wanted all along. She was made the Governor of Uttarakhand, without her consent.
However, Alva, by now a broken soul but wiser about the consequences of criticising the party's way of functioning, chose to accept the offer to move out of the city at the age of 67.
Alva deals extensively with the cold war between Sonia and PV Narasimha Rao, the first prime minister outside the Nehru-Gandhi family to complete an entire term. Being treated as the middle-man and the peacemaker between the two while not being shown any gratitude by either frustrated her immensely.
When the Rao government decided to appeal against the Delhi High Court's decision to quash a complaint against the Bofors case, Alva was the Minister of State for Pension and Personnel grievances. Thus, the CBI came directly under her jurisdiction. Alva found it extremely difficult to broker peace between the two.
Once when she tried explaining her position to Sonia Gandhi, the latter retorted: "What does the Prime Minister want to do? Send me to jail?"
Yet when it comes to taking sides, Alva seems to be more sympathetic towards Rao.
She rues her decision of not walking away when Sonia failed to honour Rao following his death. According to Alva, barring his decision to not act when the Babri Masjid was being brought down by Hindutva forces, Rao made for one of the finest Prime Ministers of India.
She describes how Rao was denied a state funeral and "instead the gun carriage carrying the former prime minister was parked on the pavement outside the gates. Ever since, I have regretted not protesting and walking away".
The book maps her increasingly souring relationship with Sonia, and her disenchantment with the Congress party and its manner of functioning. Although Alva has left a lot unsaid and, in places, refused to name and shame, it seems she had foreseen a bleak future for the Congress.
In her resignation letter to Sonia, she wrote: "Winning candidates have been kept out because state leaders have chosen to divide seats among themselves with little considerations for their winning chances. The way in which genuine Congress workers have been ignored and even recommendations of CEC members rejected, I am afraid that the history of the Karnataka defeat is going to be repeated."
Interestingly, she was one of the few Congress-appointed governors who completed her term. In 2012, she was made the Governor of Rajasthan.
Mentioning one instance of meeting newly-elected Prime Minister Modi in 2014, she writes: "I told him I had come to pay my respects, not plead for an extension, adding, 'I am not prepared to quit anytime'. 'There is no question', he replied. 'You are doing a good job, please continue where you are'."
Thereafter, she got the additional charge of Goa and Gujarat - both BJP-ruled states.
In terms of information, the book is restrained in tone. Alva keeps her grace intact even when criticising Sonia Gandhi. Now, it is for the Congress high command to read the message and introspect.