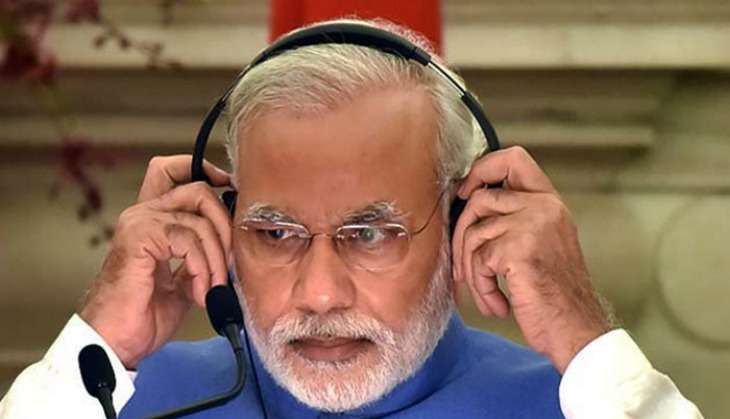 On the eve of Mahatma Gandhi's death anniversary observed as Martyrs' Day, Prime Minister Narendra Modi today asked the youth to use social media to spread stories of valour of soldiers, who were recently given bravery awards, saying it will make people proud and inspire them.
In his monthly 'Mann ki Baat' address, he also paid tributes to soldiers who died in avalanches in Kashmir at a time when the country was holding Republic Day celebrations.
"On January 30, the death anniversary of our revered Bapu, we observe 2-minute silence at 11 AM to pay our tributes to the nation's martyrs. This 2-minute silence on January 30 should become a practice for us as a society and country...I especially urge the youth as you are very active on social media.
"Please search on Internet about the brave soldiers who were awarded this year. Write about them and spread it among your friends. When we come to know of their valour, then we are surprised as well as feel proud and inspired," he said, congratulating soldiers and their families who received awards in various categories.
Modi used the broadcast to offer his congratulations to the Coast Guard for completing 40 years of service during which it has become one of the four largest coastal security forces in the world with a fleet of 126 ships and 62 aircraft.
Its anniversary falls on February one.
Lauding it, he said the force has also worked on coastal cleanliness besides security.
He noted that women, side-by-side men, work in various capacities in the Coast Guard rendering yeoman service.
The Republic Day was celebrated on January 26, a day when the Constitution came into effect in 1950, the Prime Minister said, expressing the hope that the same emphasis will be given to people's duties as it is to their rights.
He lamented that people's rights and duties are not debated as deeply and broadly as they should be in the country.
"I hope that the same emphasis is given to the duties as it is to the rights. The vehicle of India's democracy can move fast only on twin tracks of duties and rights," Modi added.
--PTI