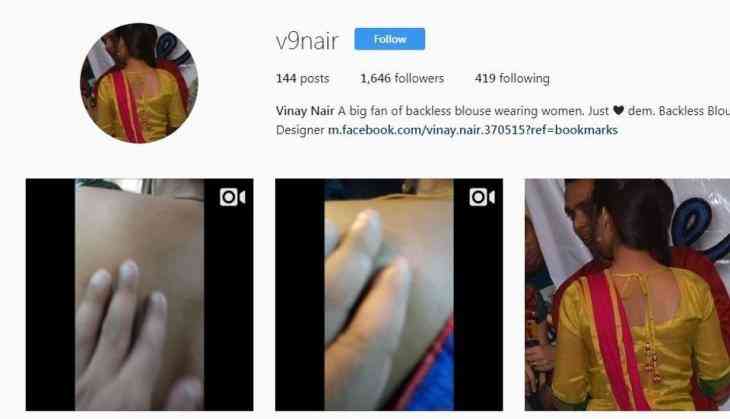 #MeToo the hashtag protest against sexual harassment has taken social media by storm. The #metoo is a way with the help of which women are talking and sharing the most painful moment of their life on social media.
Among all the protest against harassment on the social media, there is an Instagram user who filmed himself sexually harassing women on public places and then shared the videos on Instagram. The man belongs to Mumbai and his user name on Instagram is v9nair.
However, the Instagram account of Mumbai based man has now been suspended on Tuesday for posting videos of himself sexually harassing women in public.
While talking to Hindustan Times an Instagram spokesperson said, "Instagram is committed to ensuring the safety of our community and we have a global response team that monitors in-app reporting of content that violates our Community Guidelines. We have reviewed the account mentioned and found that it has violated our Community Guidelines and we have taken the account down."
The man introduced himself as a 'backless blouse designer'. The man used to touch women inappropriately in crowded space and then used to make a video of doing so. The Mumbai based man used to share his video with hastag, '#marwadiauntywearingbacklessblouse #wideback #touchandgo #longtouch #touchedtheback #sexy #hot #sweaty #closeup #slowmotion #slomo.'
The man has made more than 100 videos in which he can be seen harassing women in public places. The man had 1,731 followers on Instagram. The last post that ' v9nair' had shared was on 15 October.
The Instagram user v9nair's Insta account is linked to a Facebook profile that says the man was a graduate of Pune University in the 1998.
One of the most disturbing parts about the matter is that the act of sexual misconduct were appreciated by his followers.
An 'appreciative' follower wrote in comment section "K ya baat hai yaar...double mazaa ." Other users used to ask him for trick that how he managed to get away after sexually harassment women in public places.