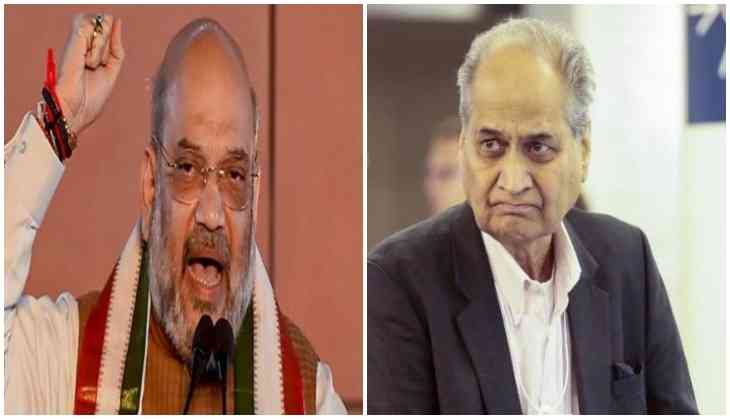 Lynchings were not new and it was wrong to say no convictions had happened, said Union Home Minister Amit Shah responding to Industrialist and Bajaj Group chairperson Rahul Bajaj's 'intolerance ki hawaa' jibe.
"Lynchings happened earlier too, which are probably more than now. But it won't be correct that there have been no convictions. Many lynchings cases have been concluded and the persons found guilty in the crime were also punished, but the media don't publish the reports." Shah added.
At an award function organised by a media house in Mumbai, industrialist Bajaj said,"There is an atmosphere of fear, people are afraid to criticise the current government. Cases of lynchings have created an environment of intolerance and we are afraid of it. We see that till now, no one has been convicted."
Bajaj asked the panel comprising Shah, Finance Minister Nirmala Sitharaman and Railway Minister Piyush Goyal why people are not allowed to question the government. The Modi-led govt is doing good work, but despite that, we do not have the confidence that you will appreciate it, if we criticise you openly.
"People had the freedom to critique the Congress-led UPA government but that the current regime has created an environment of fear and uncertainty," Bajaj added to his question.
The Home Minister also responded to Bajaj and said, "If you are saying there is a certain kind of atmosphere, we have to make efforts to improve it. There is no need for anybody to be afraid. We have done nothing to be concerned about any criticism. The govt is running in the most transparent way and has no fear of any kind of opposition. If anyone criticises us, we will make efforts to improve ourselves."

The event also witnessed a discussion on Indian economy, where Home Minister Shah said, Indian economy has moved from the era of policy paralysis, scams and corruption pre-2014 to an era of bold, transparent and decisive decision-making under the Narendra Modi government since 2014.
"Indian Economy has moved from the era of policy paralysis, scams and corruption pre-2014 to one of the era of bold, transparent and decisive decision-making under Narendra Modi Government since 2014," Shah said in an address at an English Daily Awards for Corporate Excellence in Mumbai.
Shah asserted that the current slowdown in the economy is a "temporary phase" and the Indian Industry which contributes 60 per cent of gross domestic product (GDP) to the economy will join with the vision of the Modi government to make India a 5 trillion-dollar economy by 2024.
Expressing hope that the Indian industry and market will tide over this temporary crisis despite a slowdown, the Home Minister assured the industry that the "government is standing solidly behind them and is tackling all the challenges in a proactive fashion".
He said that the last 5 years were of the "detoxification of the economy" and in the next five years a "series of reforms" will be taken to make it one of the most powerful economies of the world.
"India is already a destination of global companies due to its huge market and FDI is at record level today. Even Sensex and nifty have breached all records," Shah added.
Also Read: Indian economy has moved to era of bold, transparent and decisive decision-making under Modi govt: Amit Shah