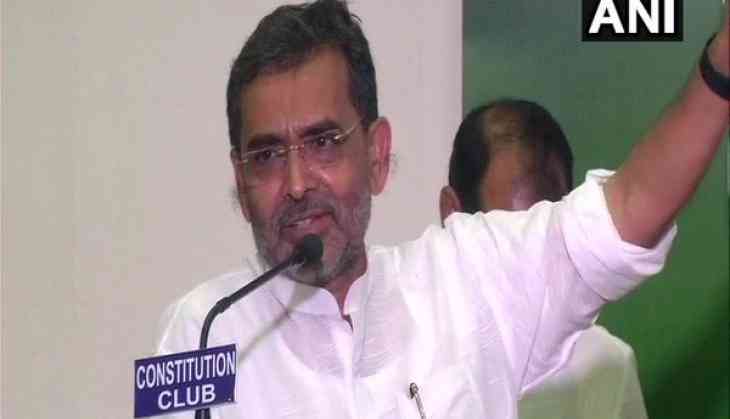 As the Lok Sabha election approaches, the role of ally is making it significant for the NDA and Upendra Kushwaha is taking the lead in Bihar.
The seat-sharing deal for the upcoming elections in 2019 has been struck for by the NDA allies and that the association between the four parties has been in a tandem, since RLSP chief Kushwaha met the Opposition leader and Lalu Prasad Yadav's son Tej Pratap Yadav.
Earlier, Upendra Kushwaha had claimed that Bihar chief minister Nitish Kumar would resign after 2020 from the active politics and that he doesn't wants to be the CM post 2020.
"Bade bhai Nitish Kumar ji, jab ek hi parivaar se aap aur hum hain toh Upendra Kushwaha neech kaise ho gaya? Main Nitish Kumar se yeh jaanna chahta hoon," said Kushwaha, adding that, "PM ne kisi aur sandarb mein DNA ki baat kari thi (before Bihar polls), par Nitish Kumar ne apni party ke logo se kaha ki baal aur nakhoon kat kar Delhi bhejo humara DNA kaisa hai iski report hum chahiye.Hum aaj bhi intezaar mein hain ki woh DNA ki report aayi ya nahi?"
Union Minister Upendra Kushwaha asked Bihar CM at an event in Muzaffarpur that, "Nitishji, you have said that you are my elder brother. Then why have you relegated me to this lowly station while you stand on a high pedestal saying that I am not worthy of comment?"
The BJP has tried to test the waters by cracking a successful seat-sharing deal with JDU chief and both the leaders, namely Amit Shah and Nitish Kumar had served as the big brothers of the alliance.
Other two partners Lok Janshakti Party's Ram Vilas Paswan and RLSP's Upendra Kushwaha have been at the backseat in the NDA in Bihar but the recent comments by the leaders have led to a churning in the party and that none of them is ready to compromise over the number of seats.
Also read: Delhi pollution: Thick smog covers Delhi-NCR two days ahead of Diwali; pollution level crosses 20 times the
PM ne kisi aur sandarb mein DNA ki baat kari thi (before Bihar polls), par Nitish Kumar ne apni party ke logo se kaha ki baal aur nakhoon kat kar Delhi bhejo humara DNA kaisa hai iski report hum chahiye.Hum aaj bhi intezaar mein hain ki woh DNA ki report aayi ya nahi?: U Kushwaha pic.twitter.com/kziJcOpSM0

— ANI (@ANI) November 5, 2018
Bade bhai Nitish Kumar ji, jab ek hi parivaar se aap aur hum hain toh Upendra Kushwaha neech kaise ho gaya? Main Nitish Kumar se yeh jaanna chahta hoon: RLSP's Upendra Kushwaha in Bihar's Muzaffarpur yesterday pic.twitter.com/XU1m1dLMqk

— ANI (@ANI) November 5, 2018