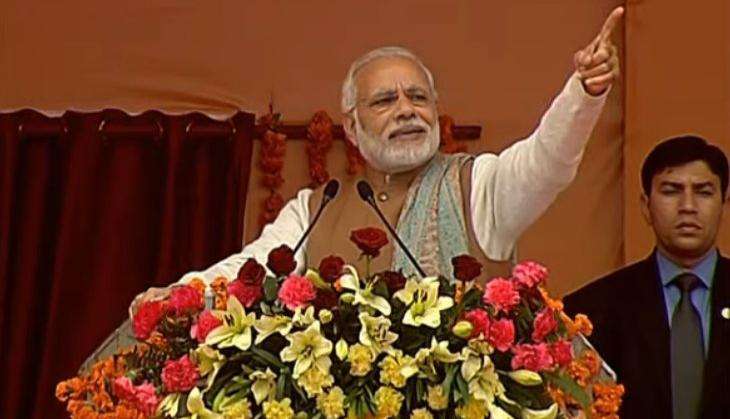 Prime Minister Narendra Modi addressed a massive crowd of an estimated 10 lakh people at BJP's 'Parivartan Maha Rally' in Lucknow. The massive crowd has gathered for BJP's Uttar Pradesh election campaign.
With the Maha Rally at Ramabai Ambedkar Grounds in Lucknow, BJP tried to get an edge over Mayawati's Bahujan Samaj Party in the coming elections whose dates are expected to be announced later this week. This is the first time the PM Narendra Modi addressed a rally after his televised address on 31 December.
Here's what Prime Minister Narendra Modi said in his address:
- 2017 UP elections are elections of responsibility for BJP and not of loss or victory.
-Have you ever seen BSP and SP together? When BSP says sun is rising, SP will say sun is setting. But both agree on 'Modi hatao':
-Our high command is the people of India. We have no other high command
-They say remove Modi I say remove black money, they say remove Modi, I say remove corruption. You decide what we want to remove
-Launched mobile app BHIM after Ambedkarji.
-RBI was mooted by Dr BR Ambedkar. He had deep knowledge of finance, economics.
-I feel proud to bow before Ramabai Ambedkar and Bhimrao Ambedkar
-Hindustan ka bhagya badalne ke liye pehli shart hai ki humein Uttar Pradesh ka bhaagya badalna padega
-When politics comes in the way of politics, people suffer
-Why sugarcane farmers didn't get their money?
-If people of Uttar Pradesh leave behind caste based politics and vote in the name of development, UP will develop.
-People of Uttar Pradesh are well aware of politics.
-If India has to move forward, it is very important for Uttar Pradesh to move forward.
-After 30 years India got a government with full majority.
-I saw it on TV. They said, BJP's 14 year exile will end. However, its not about BJP's 14 year exile but development of BJP for next 14 years. Nothing has been done till now to develop Uttar Pradesh.
-All political pandits and experts after having a look at the gathering will get a clear idea of what will happen in the upcoming Uttar Pradesh elections.
-Lucknow, Atal Bihari Vajpayee ji ki karm bhoomi h. Atalji ne Lucknow ki bhi poori seva kari.
-I was surprised to see photographs of the crowd. I haven't seen such a big crowd. All of you have come here to give us blessings, I am really thankful to you all.
-I have never had the chance to address such a big rally despite my long carrier in politics. I feel blessed: PM Modi
-PM Narendra Modi at Parivartan rally in Lucknow (Uttar Pradesh), to address shortly
HM Rajnath Singh speaking at BJP Parivartan Rally in Lucknow pic.twitter.com/4dEichxAji

— ANI UP (@ANINewsUP) January 2, 2017
BJP Chief Amit Shah speaking at Parivartan rally in Lucknow pic.twitter.com/QDYVnQCVr5

— ANI UP (@ANINewsUP) January 2, 2017