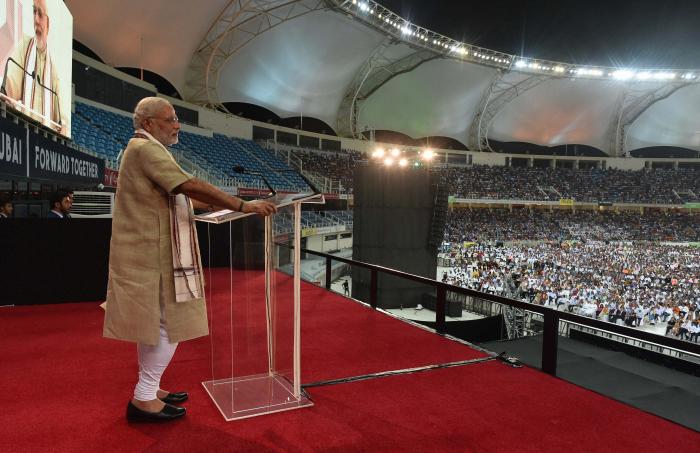 Hello desis and Dubai desis. Welcome to our live blog.
7:50 pm: Prime Minister Narendra Modi will begin his address to Dubaiwallahs shortly.
From what we can tell, the mood at Dubai Cricket Stadium is not very different from how it was at Madison Square in USA not so long ago. Will 'Rockstar Modi' make a comeback? Or will he pull a Independence Day speech-esque let down?
Over a 1000 people are still queued up to enter the stadium. Wow.
8:00 pm: All right folks. There are 50,000 people at the stadium, TV reports suggest. The colours, the noise, the costumes -- it looks like a mini India.
Stadium gates were supposed to be closed at 6:30 local time, but people are still streaming in.
8:10 pm: The stadium looks packed.
Quick fact:
According to the Emirates 24|7 poll, only 10% of poll respondents have confirmed they will be attending the 'Marhaba Namo' event.
8:13 pm: Dance performances are on. A cultural event, with the Indian flag as the background has taken over the stage.
Turns out, there might just be too many people in the stadium. Emirates reports 32,000 people can be accommodated in the stadium and 20,000 can be accommodated outside. Interestingly, India Today states that the stadium has a 40,000 seating capacity. *Cough* That's still not 50,000.
Oh wait, ESPN Cricinfo states that the Dubai Cricket Stadium can hold 25,000 people, expandable to 30,000. This, not counting the people on the ground itself.
8:20 pm: That's quite a catchy mix of tunes there. From Chak De India! to Slumdog Millionaire being played instrumentally onstage.
8:30 pm: A few seconds to Modi's appearance and Dubai seems excited. Will the PM's debut in UAE be a hit with the people?
'Modi, Modi, Modi' the crowd chants.
8:32 pm: The anchor is asking for excitement that he appears to lack. Must be tiring.
A
kalari payattu
type dance is on. Except, less risky. The background looks very Kerala too. No surprise there!
8:34 pm: Yep, it is kalari. Non-Indians in the crowd look worried.
And now, time for some mohini attam, a dance form performed by women in Kerala. Loving the costumes. Only in Dubai would a representation of India start with Kerala, and that's not a bad thing.
8:38 pm: You all recognised this one. Kathakali, of course. Funny thing though, the performers look just as decked up as the venue.
While we enjoy the performances over some popcorn, here's the latest speculation on Modi --
Did Modi's visit really lead to allocation of temple land in Abu Dhabi?
8:50 pm: The crowd is still waiting. Meanwhile, a dandiya performance is on.
Wait, is that a grandmother singing and dancing? This is awesome.
9:00 pm: Okay, they've said it. There might be another half and hour wait. We'll get back to you when the PM arrives. Take a bathroom break.
9:18 pm:
Oh look! There he is. Modi is on the stage. UAE and India national anthems sung back to back.
PLEASE STAND UP FOR THE NATIONAL ANTHEM
After the PMs super stuffy suit at Red Fort two days ago, he's sporting a lighter costume. Dubai too hot, PM?
9:20 pm:
PM starts his address. Acknowledges those in the crowd as Indians.
Modi commends their hard work. 'The people here are earning to feed themselves, but they have taken the name of India forward,' he says.
'If an Indian in India is suffering because of rain, the Dubai Indian offers him an umbrella'.
9:23 pm: PM invokes Vajpayee and how India became a nuclear power. 'The whole world was shocked,' he says. 'The people of Gulf countries who did hard labour put in the maximum amount of work to make that happen.'
9:25 pm:
Looks like Modi is really ego boosting at this point.
'Dubai isn't just a mini Kerala. Dubai is now a mini India,' says the PM. Modi compliments the vibrant people of UAE.
9:30 pm: The chants continue in the crowd. And Modi does it! He acknowledges the mass population of Kerala in Dubai. 'It is the new year for Keralites,' he says before wishing them in Malayalam. Aashamsagal to you too, Mr PM.
'Every week there are over 700 flights coming to this nation, but it took an Indian PM 34 years to reach this place,' Modi says.
9:33 pm: 'You have waited 34 years. You have every right to be mad,' says the PM.
Modi says he's overwhelmed by the love Dubai has given him. He thanks all, Dubai rulers and Crown Prince for how they have welcomed him.
9:36 pm: Modi plays the religion card and WINS the crowd. 'At a time when religious intolerance is killing many everyday, the rulers here have allowed a temple,' he says to a mad crowd.
9:40 pm: Modi talks of the India-UAE joint statement. 'The crown prince has announced Rs 4.5 lakh crore for Indian development,' Modi announces. 'Modi, Modi' chants drown him out.
'If someone doesn't trust you, would they give you even Rs 10?' Modi jokes.
9:45 pm: Modi thanks the rulers of UAE as they have requested to add India to the UN Security Council. The UN marks its 70th anniversary this year.
'There is a resolution in the UN that has not been passed. You'd be surprised about it. The UN was born 70 years ago to help the world, but it hasn't been able to fight terrorism.'
Comprehensive Convention on International Terrorism -- Modi says it's still stuck. India has asked for resolution on the same. 'His Highness Crown Prince has acknowledged India's position and made his stance clear on the issue.'
9:50 pm: Modi asks why Indians look so happy around the world. The WHOLE crowd shouts 'Modi'.
No, says Modi. 'This change has come about because of the 125 crore Indians'. He says, this is because India chose a poorn bahumat sarkar. Yep, this is a repeat of the I-Day speech.
9:53 pm: Modi says India is growing faster than any nation around the world. 'I'm telling the world, Make In India.'
India is full of opportunities, says Modi. '65% of our population is less than 35 years old. India is a YOUNG nation. Jawaani labalab bhari padi hai.'
9:55 pm: Modi is now talking about the problem of terrorism internationally. He mentions the blast in Bangkok earlier today.
'Those who terrorise are on one side. And those who believe in humanity are on the other. It is time to fight against terrorism,' says Modi. 'There is no 'good' Taliban, 'bad' Taliban. There is no 'good' terrorism, 'bad' terrorism. Decide, which side you are on.'
10:00 pm:
India has been fighting terrorism for a long time, says Modi. He talks about the tension in Nagaland. 'All of north east faces the issue of internal tension.'
However today, says Modi, the Naga pact was signed a month ago. 'Discussions with those who were up in arms against us, gave in. This decision came into being 60-70 years after Independence.'
10:02 pm: 'No matter how contentious the issue is, only talks can fix a problem,' says Modi.
'I met 'Pradhanmantri' Sheikh Haseena in Bangladesh. I told her to trust me and she said what choice do I have.' PM Modi says this with respect to the Bangladeshis who have got citizenship in India.
10:10 pm:
Quick update -- We have lost Modi telecast due to unusually mad rains in Delhi. Please bear with us. We'll be back shortly.
Okay, we're back. Modi is still talking about how India is maintaining its relationships with neighbours. He talks of how he went to Sri Lanka and 'wiped the tears off faces'.
10:12 pm: Maldives, which is an island nation, told Modi that there was no water in the country. 'We sent water the very next day. We didn't let Maldives go thirsty.'
'India's dream is to progress, and also to take her neighbours forward.' Modi says SAARC countries used to fight amongst themselves, but that is not the case anymore.
'In 2016, SAARC will aid its people unitedly,' says Modi. He talks of vikaas again, and says connectivity is a big problem in SAARC nations, unlike Europe.
10:18 pm: Nepal, Bhutan, India and Bangladesh have signed an agreement to develop connectivity, says Modi.
'India wants to match up to every developed nation in the world. We're working on it. Setting up infrastructure, gas pipelines, electricity.'
'Is it possible to live without electricity in today's day and age? In 5 years time, I will ENSURE every part of the country is electrified,' says Modi.
10:20 pm: Modi talks about the three yojanas put in place again. Deja vu time for those who watched his I-Day speech.
'On Rakshabandhan, we give gifts. I urge you to give your sisters the Jeevan Suraksha Yojana this year,' says the PM.
10:25 pm: 'God is watching the love you have given me,' says Modi. Dare we say another godman in making?
Indian government has made an online platform called 'Maddad', says Modi. This is for all Indians living internationally to reach out. 'E-migrate' worker is another platform that will save you from too many rounds to the immigration office, he adds.
10:30 pm: Modi announces consellor camps for Indians living abroad, so that they needn't rush to the immigration office.
'Whether I work for America or not, if I do nothing for you, I can't sleep easy,' says Modi.
Modi also announces the Indian Community Welfare Fund. This is to help Indians get out of trouble, he says. School admissions are difficult and therefore Modi has spoken to the authorities to make matters easier.
10:33 pm: Modi seems to be concluding his speech.
'No matter where our Indians are, we don't look at the colour of their passport. The colour of your blood is enough,' says Modi.
Modi signs off with his signature BHARAT MATA KI JAI chant. Thrice.
Dhanyawaad to you as well, Mr PM.
10:36 pm: The gates are shut at the venue for another 30 minutes due to some security protocol.
We hope they can get out soon because it looks quite hot there.
And with that, this blog is done and dusted. Good night, people! Thanks for being with us.