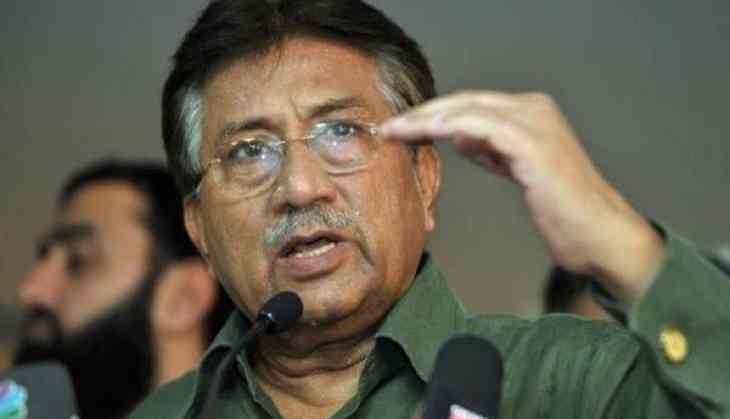 Kulbhushan Jadhav sentencing: Musharraf calls on Pak Govt. to be wary of Indian backlash (ANI)
With India promising severe consequences in bilateral ties if Pakistan carries out the death sentence on alleged Indian spy Kulbhushan Jadhav, former president Pervez Musharraf has called on the government to be wary of sharp backlash from New Delhi on the matter.
Rejecting India's claims that Jadhav's trail was unfair, Musharraf maintained that the trial was carried out according to the procedure prescribed in Pakistan's law and said, "for anyone involved in espionage and sabotage, the case is tried in military court, a lawyer is assigned to defend the accused and the procedure is the same for Pakistanis as well as foreigners. Jadhav was tried according to the same procedure."
"Jadhav opted for a civilian defence lawyer, which was provided to him, it is a misconception that there is no defence in court martial cases. Consul access was denied to him as it was a case of espionage, it is standard practice," he further added in an interview on ARY TV
Talking about Jadhav's options, he added that according to military law, the alleged Indian spy can appeal to a appellate bench or take the matter to the Supreme Court and if that doesn't work out, the last resort is a mercy plea to the President.
Musharraf also noted it would be wise for Pakistan to expect prospective backlash when the Indian government takes the matter up on international forums.
Foreseeing a deeper strain in Pak-India relations, Musharraf said, "There will be a sharp rise in tension between Pakistan and India. Their media has already started using their pet term 'rogue army'. If they think our army is rogue, what is their army doing in Kashmir, have they forgotten what happened to Sikhs in their country?"
"Pakistan has to stand fast against India's accusations of the move being of 'premeditated murder'. I would like to remind everyone of how India dealt with Ajmal Kasab, Kassab was one non state actor involved in one incident, this man was responsible for launching several such incidents in Balochistan and Karachi. Who is a greater criminal if we were to talk numbers?"
Indian External Affairs Minister, Sushma Swaraj issued a stern warning to Pakistan saying that Islamabad should be wary of taking such an extreme step as it could result in damaging the bilateral relations between the already hostile neighbors.
"It is an indefensible verdict against an innocent Indian citizen. We have no option but to deem the sentence a premeditated murder. Our position is very clear, there is no evidence of wrongdoing by Kulbhushan Jadhav. I would caution Pakistan government to consider the consequences for our bilateral relationship if they proceed on this matter," said Swaraj.
Union Home Minister Rajnath Singh had also assured Lok Sabha MPs that the Centre will do everything possible to save Kulbhushan Jadhav.
Speaking in Lok Sabha, Rajnath Singh said, ''The government of India strongly condemns Pakistan's move to send Kulbhushan Jadhav to gallows on false charges of being a spy.''
Jadhav was arrested in March last year, "for his involvement in espionage and sabotage activities against Pakistan," according to a statement released by the Pakistan armed forces.
-ANI