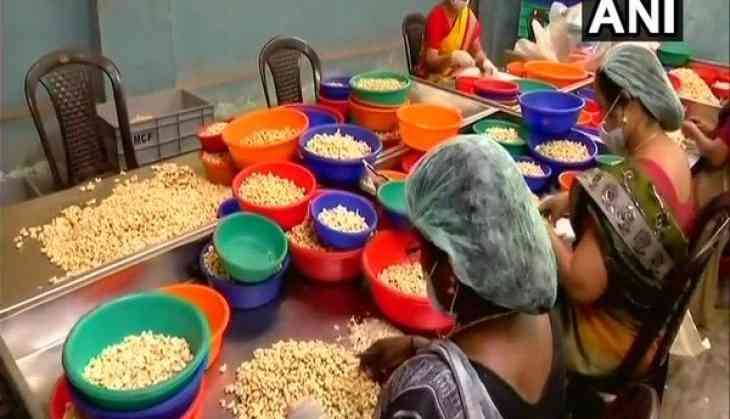 The cashew industry in Kerala has lately been facing a crisis, as over 90 percent of the factories have shut down, leaving lakhs of workers unemployed.
Kerala's Kollam district, which is known as the headquarter of cashew processing and exporting, housed more than 700 factories, which has now reduced to only 10. The number of employees working in this sector is nearly 300000.
The factories were a source of livelihood for many women in the district, who say they are ready to compromise on their wages if the units are reopened.
Sudharma, a former worker at a cashew nut processing unit told ANI, "I used to get about Rs 3,000 each month. I am simply sitting now. We hope the company will reopen. Owners said they were in crisis due to the increase in wages directed by Kerala government. We are ready to work on lower wages."
Another former worker at a cashew nut processing unit in Kalluvathukkal, Girija said, "I used to work in peeling section. We got wages according to weight of the cashews we processed, which was hiked from Rs 16/kg to Rs 36/kg. There were more than 640 workers in our company."
Meanwhile, the Indian National Trade Union Congress (INTUC) held the state government responsible for the crisis.
"In the last six months, cashew factories in Kerala closed due to wrong policies of governments. The industry provides job to over 3 lakh people in and around Kollam. Some people want to spoil this industry by imposing unnecessary compliance and formalities," INTUC president R Chandrasekharan said.
He also raised the issue of obsolete machinery at the cashew factories and wages below the minimum wage, "They (factory workers) get only Rs 350 while state government announced Rs 600 as the minimum wage. There has to be separate dispensation for this sector."
A new trend has come to shift cashew industries to other states like Tamil Nadu, Andhra Pradesh, Odisha, Karnataka. There is no protection from government in spite of repeated requests from trade union and common people," Chandrasekharan added.
(ANI)