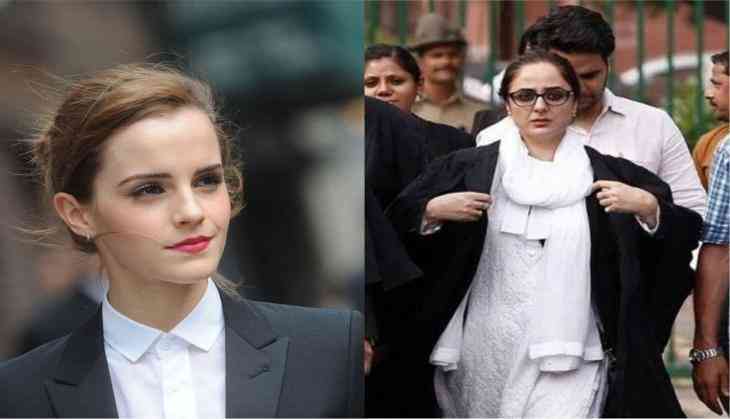 The Jammu's Kathua rape and murder case have triggered a massive outrage not only in the country but worldwide raising a question on security on women and minors in India. After the Jammu lawyer Deepika Rajawat took the Kathua victim's case in her hand she started to receive life threats from several Hindutva wings. Many across the nation came to support and praised the lawyer's courage. Now, a popular Harry Potter actress, Emma Watson has backed Rajawat for fighting Kathua victim's rape and murder case.
British actress Emma Watson tweeted, "All power to Deepika Singh Rajawat." Watson, who is also a United Nations Women's goodwill ambassador, was reacting to an article about "How the Kathua rape case lawyer is a force to reckon with".
The profile image on that photo profile was the one you see above in this story.
Deepika Rajawat has been under watch ever since she took the Bakarwal family's case. The eight-year-old minor Bakarwal girl was abducted, tortured, repeatedly raped and then scrambled to death by eight men including a juvenile inside a Hindu temple.
Deepika Singh Rajawat has previously claimed that she fears for her life and that she had been threatened by colleagues, including those from the Jammu and Kashmir Bar Association. The Rajawat and Bakarwal family moved to Supreme Court after seeking for the transfer of the case trail outside J&K. The trial in the case is currently on hold after the Supreme Court stayed proceedings until May 7.
Also read: Andhra Pradesh: 60-year-old man accused of raping a minor girl in Guntur allegedly commits suicide