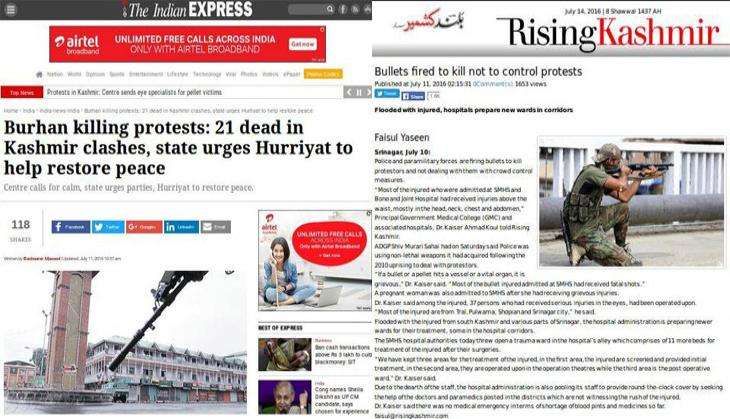 The Valley has been embroiled in turmoil ever since Burhan Wani, the 22-year-old commander of the Hizbul Mujahideen, was shot dead in an encounter in Kashmir's Anantnag during a joint operation by the Indian Army and Kashmiri Police on 8 July.
News of the unrest has taken over headlines across both national and Jammu and Kashmir state media. Front page stories and editorial pieces are full of horror stories of the violence. However, the difference in the reportage of both the national and regional media is worth observing.
In order to highlight these differences, we juxtaposed the coverage of the unrest in leading national dailies and some regional Kashmiri news portals.
We found that media outlets in Jammu and Kashmir highlighted the stories of those who died during the unrest and horror stories of the victims who lost their vision due to pellet firing by the police forces. Articles about teenagers who were killed or severely injured because of the brutality of the police force were splashed across major Kashmiri media outlets.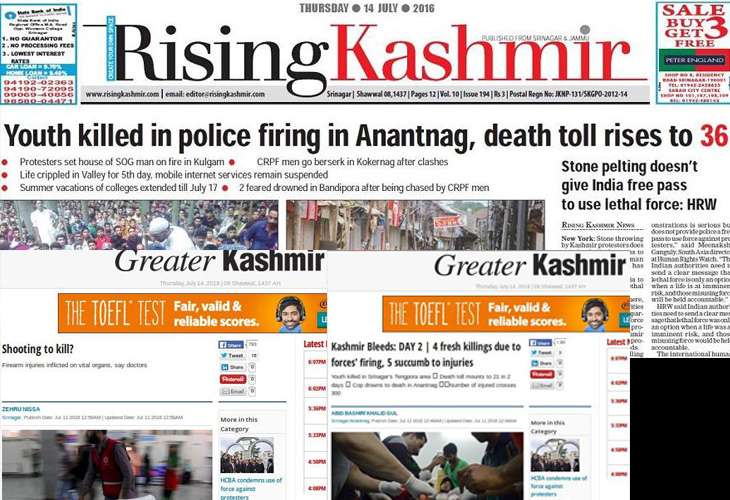 Kashmiri media continues to openly blame the security forces for using maximum force against the protesters, while glossing over the instances of the violence - like stone-pelting and flinging grenades - meted out by the protesters themselves.
In the rush to narrate heart-wrenching stories of the civilians who were killed, the regional media seems to have turned a blind eye to the deaths of the security personnel. To the anguish of their families and dear ones.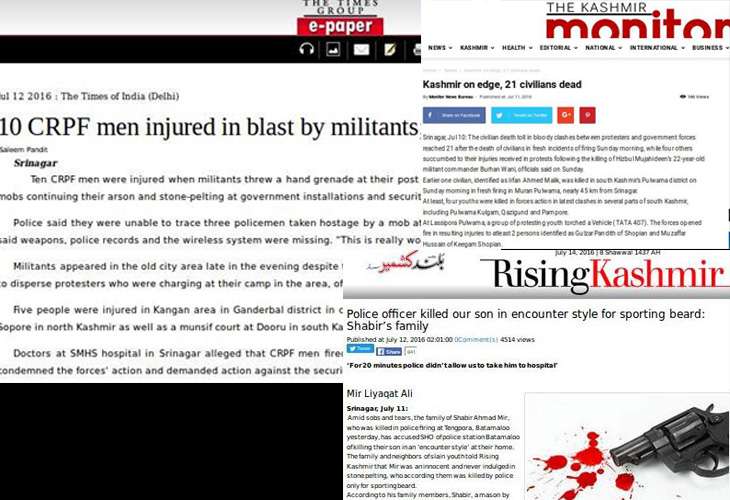 Reports in national and regional media
On the other hand, national dailies covered the news about how protesters snatched 70 assault rifles from the security force to build armoury - a story the J&K media missed out on while covering other aspects of the crisis.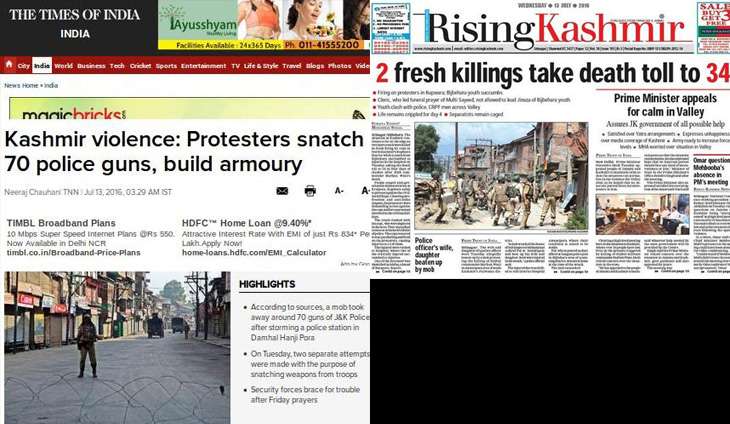 Headlines on national media (left), state media (right)
Not only did several editorials and opinion pieces in the regional media severely criticise the Union government for mishandling the situation, but they also accused the Mehbooba Mufti-led state government and the elites of Kashmir for ignoring the situation.
If a section of the Kashmiri intelligentsia is to be believed, J&K feels betrayed by the BJP-led Union government, as the people of the Valley had come out in hordes to vote the BJP-PDP coalition into power.
The death toll in the Valley rose to 32 as on 12 July. Even as the educated media of the nation is caught up in a blame game, the unofficial, unreported casualty figures in the conflict-torn Valley continue to climb.