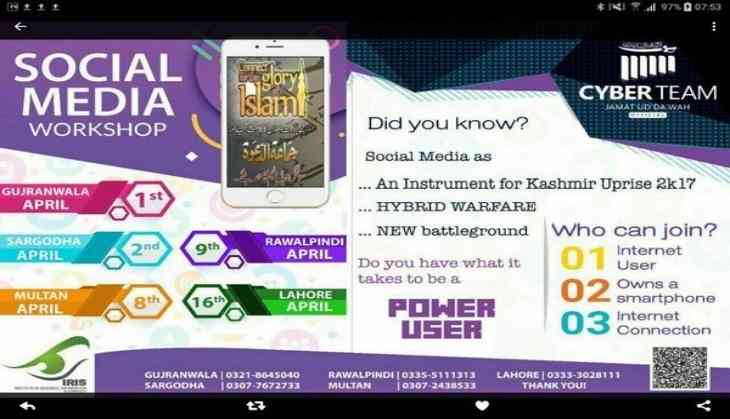 The cyber team of the banned Jamaat-ud Dawa has sent out a poster intimating that they will conduct social media workshop at Gujranwala, Sargodha, Multan , Rawalpindi and Lahore from April 1 to April 16 to train/invite volunteers for joining efforts for creating uprising in Kashmir in 2017.
Hundreds of volunteers were recruited in the seminar at Rawalpindi in March this year.
Agencies informed ANI that Pakistan was maintaining 17,000 fake social media accounts to incite Kashmiris as per their propaganda primarily through WhatsApp, Facebook and Twitter.
Besides this, the propaganda will also be directed towards the Indian Army.
These efforts of Pakistan have reportedly been flagged to the high levels in the government, which has put up active plans to counter it.
The officials have admitted to the presence of the open workshops run by JuD cyber teams.
"Steps have been taken to counter such nefarious plans at various levels," they confirmed.
-ANI