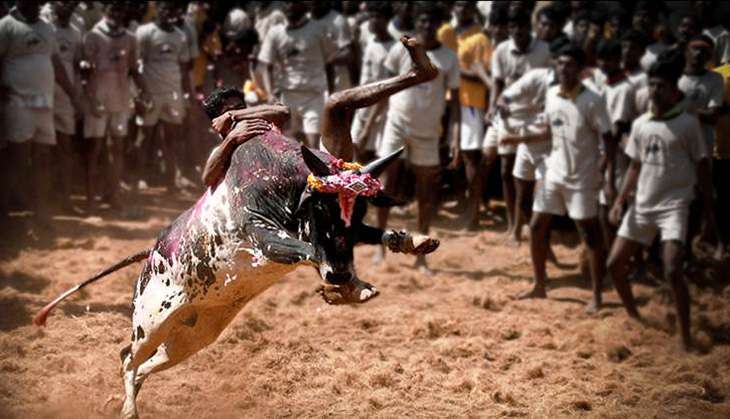 Several videos reportedly showing cruelty and acts of violence of Chennai policemen during their action against Jallikattu protesters on 23 January have surfaced on social media.
One of the videos allegedly shows a policeman charging at a woman who was standing at a door. She was attacked by another policeman after which she runs inside.
Pro-Jallikattu protests took a violent turn on Monday as several vehicles outside the Ice House police station near the Marina beach were burnt and as many as 24 police personnel injured in stone pelting and hospitalised. While protesters were held responsible for the arson, a video broadcasted by some local channels showed a policeman set a vehicle on fire.
The video has since gone viral on social media and a constable can be seen setting an auto on fire. Noted actor Kamal Haasan and other personalities too shared the video and expressed their outrage.
"What is this. Please explain some one," said Haasan in a tweet along with the video, where burning vehicles can be seen lying on the road and the cop is seen running towards an auto and setting it on fire.
What is this. Please explain some one pic.twitter.com/MMpFXHSOVk

— Kamal Haasan (@ikamalhaasan) January 23, 2017
According to the media reports, Police chief S George has ensured that the videos will be investigated. "An intelligence officer informed me that there was a picture of policemen indulging in violence. It is just ridiculous. We will find out," NDTV quoted him as saying.
Earlier, George had discarded all the allegations against police saying that the videos were morphed.
In other videos, people reportedly accused police of thrashing and abusing them.
The Madras High Court on Monday had directed the Tamil Nadu DGP to ensure safety of the public and pro-Jallikattu protesters holding their stir peacefully even as the state government claimed that anti-social elements have infiltrated the students protests in the last few days.
--With agency inputs