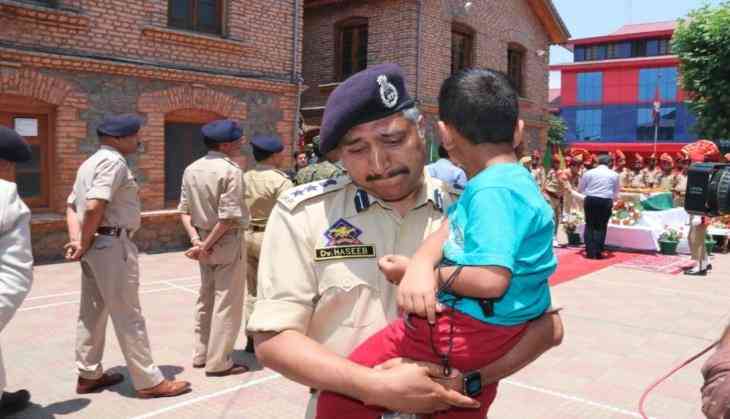 A photo is doing rounds on the internet where a senior police officer can be seen breaking down while carrying the son of inspector Arshad Khan during the wreath-laying ceremony. Khan was killed in a terror attack in Jammu and Kashmir's Anantnag earlier this week.
The picture was taken on Monday during the ceremony at district police lines in Srinagar where Haseeb Mughal, SSP was crying while carrying inspector Arshad Khan's 5-year-old son Abuhan Khan.
The son of Martyr #ArshadKhan in the lap of SSP Srinagar Dr.M.Haseeb Mughal JKPS during the wreath laying ceremony at District Police Lines Srinagar. pic.twitter.com/EqGApa82Rh

— J&K Police (@JmuKmrPolice) June 17, 2019
The incident took place on 12th June, Sunday where bike-borne militants open fire on the patrol team in south Kashmir in the broad daylight killing five CRPF men. To control the situation, Stationhouse office of Anantnag, Arshad Khan rushed to the spot where he succumbed to the injuries as the militants hurled the grenades at the force.
"Within 3-4 minutes, he rushed to his fellow men' rescue. This is part of J&K synergy and we have deep admiration for it," said adviser K Vijay Kumar.
"He bravely fought against the terrorists which resulted in the killing of one terrorist," said a police spokesperson.
Khan is survived by his parents, wife Neelofar and his two sons Abuhan Khan 5-year-old and Danim Khan 2-year-old.
Also Read: Delhi: Protest outside Mukherjee Nagar police station