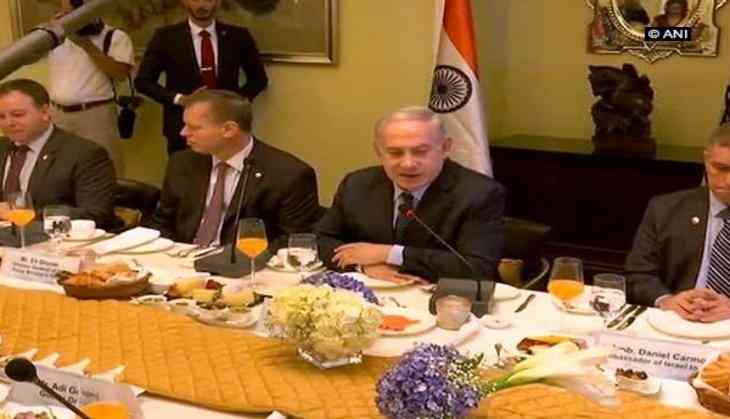 Israeli Prime Minister Benjamin Netanyahu on 17 January met the top Indian CEOs and head honchos for a power breakfast in Mumbai.
While addressing the Indian CEO's in Mumbai at a business forum, Netanyahu said, "Future belongs to those who innovate. Our job is to encourage you to innovate. Partnership between India and Israel is doing wonders".
"I have a strong personal friendship with Prime Minister Narendra Modi," he added.
Netanyahu interacted with business leaders at the iconic Taj hotel overlooking the Arabia Sea. Business leaders who were present at the breakfast included Ajay Piramal, Rahul Bajaj, Adi Godrej, Harsh Goenka, Anand Mahindra, Dilip Shanghvi, Ashok Hinduja, Atul Punj and Chanda Kochhar.
The business forum was also attended by Israeli business persons.
Soon following that, Netanyahu's schedule is followed by a wreath-laying ceremony at Hotel Taj Mahal Palace opposite the Gateway of India and a visit to the Chabad House in Nariman House, in nearby Colaba - both in south Mumbai.
Netanyahu will also meet the 11-year-old Moshe Holtzberg. He will later meet around 25 to 30 members of the Jewish community at the Taj hotel.
Moshe's father Rabbi Gavriel Holtzberg and mother Rivka were killed at the Nariman House during the 2008 Mumbai terror attacks.
By evening, Netanyahu is reserved for a gala glamour-filled engagement with Bollywood personalities, his final engagement before returning home on Friday morning.
Netanyahu arrived in Mumbai earlier in the day from Ahmedabad. He was received at the airport by Maharashtra Chief Minister Devendra Fadnavis and senior officials.
-ANI