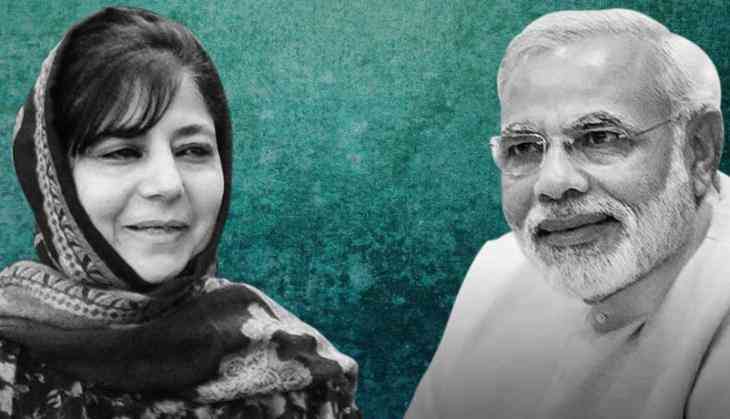 Mehbooba Mufti and PM Narendra Modi
In the election season, political leaders are on a campaign spree and the rhetoric is again touching its height. PM Narendra Modi, while rallying in Kathua today, said that he won't allow 'Muftis and Abdullahs' to divide this country and Mehbooba Mufti has retorted.
Taking a cue from his remarks during the campaign in Jammu and Kashmir's Kathua region, former Chief Minister Mehbooba Mufti tweeted saying, "India is not Modi and Modi isn't India."
While addressing a crowd at Kathua, PM Modi took a jibe at the local leadership of Kashmir and had said that National Conference and People's Democratic Party are trying to separate Jammu and Kashmir by demanding a new Prime Minister and not letting the ruling dispensation to scrap Article 370 and Article 35A.
Why does PM bash political families pre elections & then sends his envoys to stitch alliances with the very same parties? NC in 99 & PDP in 2015. Why do they choose power over Article 370 then ? BJP with its noxious agenda of banishing Muslims & minorities wants to divide India https://t.co/8vNDz6WmjJ

— Mehbooba Mufti (@MehboobaMufti) April 14, 2019
I for once have never lowered political discourse by abusing opponents inc BJP. In order to gain sympathy & consequently power, PM is misleading people by equating himself with the nation. Every Indian owes his allegiance to India not PM Modi. India is not Modi & Modi isn't India

— Mehbooba Mufti (@MehboobaMufti) April 14, 2019
Prime Minister said, "Abdullah family & Mufti family destroyed lives of 3 generations of J&K. The bright future of J&K can be ensured only after their departure. They can bring their entire clan into field, can abuse Modi as much as they want but they won't be able to divide this nation."
In a series of two tweets, Mehbooba Mufti called out the BJP and said that first they would call them traitors and at the second moment, they would be forging an alliance.
Mufti tweeted, "Why does PM bash political families pre elections & then sends his envoys to stitch alliances with the very same parties? NC in 99 & PDP in 2015. Why do they choose power over Article 370 then ? BJP with its noxious agenda of banishing Muslims & minorities wants to divide India."
The Jammu and Kashmir leader further added in her tweet that "I for once have never lowered political discourse by abusing opponents inc BJP. In order to gain sympathy & consequently power, PM is misleading people by equating himself with the nation. Every Indian owes his allegiance to India not PM Modi. India is not Modi & Modi isn't India."
ALSO READ: PM Modi in Kathua: 'Abuse Modi but you won't be able to separate Kashmir from India'