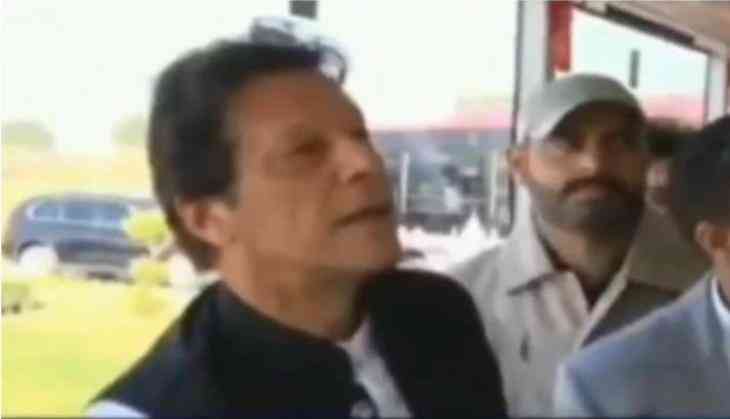 Pakistan PM Imran Khan looks for Navjot Singh Sidhu and referred him as 'Hamara Sidhu' while looking for his arrival at Kartarpur corridor opening ceremony on 9th November. Imran Khan along with his officials arrived at the inauguration ceremony in the shuttle service being by pilgrims.
Now one video of Imran Khan is being viral on social media when he was in the shuttle asked for Sidhu. He can be seen saying, "Achcha hamaara woh Sidhu kidhar hai? Main keh raha hoon hamaara Sidhu."
Moments before the Indian official jatha arrived for pilgrimage through #KartarpurCorridor...
An entire conversation by Pak PM @ImranKhanPTI on "Hamara Sidhu"
Watch.@IndiaToday @MEAIndia @ForeignOfficePk @IndiainPakistan @Ajaybis @DrSJaishankar @capt_amarinder @sherryontopp pic.twitter.com/V1rwYbDVit

— Geeta Mohan گیتا موہن गीता मोहन (@Geeta_Mohan) November 9, 2019
The video received amazing views and got around 21 thousand times. Ahead of 550th birth anniversary of Guru Nanak Dev, Imran Khan inaugurated the Kartarpur corridor in the Punjab province. The corridor makes the way for thousands of Indian Sikh pilgrims to visit the Kartarpur Sahib Gurudwara.
Navjot Singh Sidhu thanked Imran Khan and PM Modi at the opening ceremony in Pakistan and said, "It is the first time since partition that the boundaries have been dismantled. No one can deny my friend Imran Khan's contribution. I thank Modi ji also for it. I am sending a Munnabhai MBBS-style hug to you Modi sahab for this,"
Also - Arjun Kapoor introduces Sahil Salathia as 'Shamsher Bahadur' from 'Panipat'