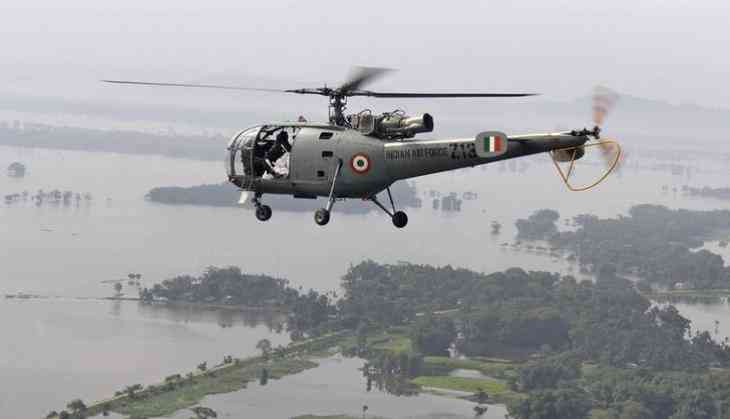 The Indian Air Force's (IAF) Mi-17 V5 detachment of Op-Triveni under Central Air Command, based at Raipur was on Sunday tasked for the rescue and relief operations in flood-affected Rayagada district of Odisha.
Four helicopters are on standby awaiting weather clearance.
Due to incessant rainfall since yesterday, some regions of Odisha's Rayagada district have been affected by severe floods.
Flash floods occurred in river Nagabali and Kalyani of Rayagada badly affected the Kalyansinghpur Block.
Many villages have marooned. Two bridges have been washed away resulting in disruption of communication to the affected areas.
It is, therefore, not possible to move the food and other assistances for the people in affected areas.
People have taken shelter on hills and other high land under open sky. Since the rain is continuing, there is no sign of early recession of flood water.
Besides, many people have been stranded in difficult situations on hill tops.
Three persons are stranded on a tree top surrounded by flood water with heavy current.
As it is not possible to rescue them through boat by the Orissa Disaster Rapid Action Force (ODRAF) and fire services, the assistance of IAF is required for the rescue and airdrop of relief material in the affected areas of Rayagada.
The State Emergency Operation Centre in Special Relief Commissioner Office is tracking the situation closely.
Bishnupada Sethi, IAS, Special Relief Commissioner and Commissioner-cum-Secretary to Government, (Disaster Management) has written to Air Headquarters for Deployment of IAF helicopters in flood affected Rayagada.
With heavy rains triggering flash floods in parts of Rayagada and Kalahandi districts, the Odisha Government on Sunday sought the help of the army and the air force to rescue the marooned persons and urged the Centre to provide four helicopters to intensify relief and rescue operations.
-ANI