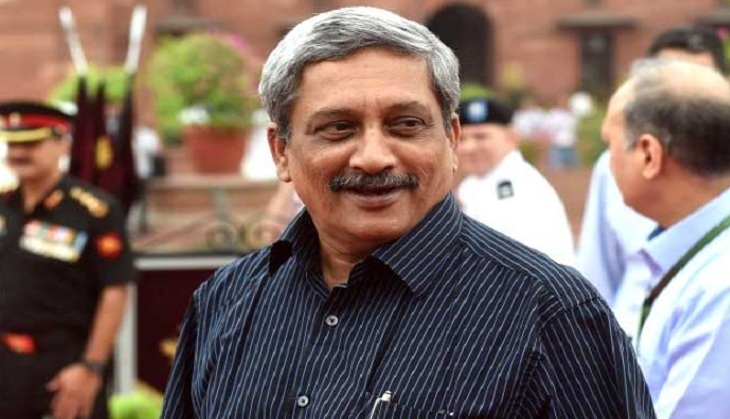 Defence Minister Manohar Parrikar on 17 September downplayed the issue of rebel RSS leader Subhash Velingkar floating a political outfit in poll-bound Goa.
"So many parties are there. AAP is there. Anyone can float the party, this is democracy," the ex-CM of Goa said.
He refused to comment on the happenings in the RSS in Goa but added that he is a "disciplined Swayamsevak".
"I am Swayamsevak, I follow RSS. You will have to go to shakha to follow RSS," Parrikar told reporters here in the background of the ongoing controversy within the organisation in Goa.
"Discipline is the most important aspect for me. I have followed the discipline and I will continue to follow it. If you want any comment on RSS, you will have to contact RSS," he said.
Parrikar was talking to reporters at the sidelines of a health camp organised by the BJP to mark the birthday of Prime Minister Narendra Modi.
RSS had recently relieved its Goa Vibhag Sangh Chalak, Subhash Velingkar, who has now formed a parallel outfit called the RSS Goa Prant.
Velingkar has also announced that the Bharatiya Bhasha Suraksha Manch (BBSM), of which he is the convener, will float a political party on 2 October.
BBSM, headed by Velingkar, has been demanding regional languages as Medium of Instruction in the state's elementary education.
Velingkar was "relieved" as Goa RSS chief on 31 August after the BBSM expressed its intent to launch a political party to take on the BJP in the 2017 Goa Assembly polls.
His supporters had detached themselves from the RSS' Konkan prant, and had formed the 'Goa prant', which the RSS leadership had refused to recognise.
He has been spearheading a hectic campaign for the primacy of regional languages like Konkani and Marathi as MOI in schools and wanted the BJP government to stop support to English medium schools.
Velingkar has locked horns with the BJP government headed by Laxmikant Parsekar over the issue, with members of his outfit even showing black flags to party chief Amit Shah during a recent visit to the state.
He recently said the "Sangh unit" in the coastal state will function "independently", at least till the Assembly polls.
However, RSS had been quick to debunk him, saying none of its units can dissociate themselves from the outfit and brought in Laxman Behre as the new Sangh chief in Goa.
-PTI