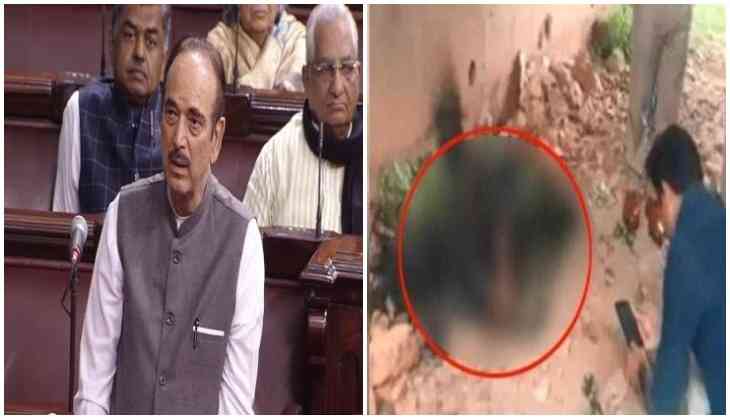 Hyderabad gang-rape rocks Rajya Sabha
Senior Congress leader Ghulam Nabi Azad believes that criminals involved in heinous crimes, like gang-rape in Hyderabad, should not be offered any leniency because of religion or any other factor. Ghulam Nabi Azad made this statement in Rajya Sabha on Monday during a discussion on rape and murder of the veterinary doctor.
We need to take a stand: Azad
Azad was not to do any kind of politics on this sensitive issue. He categorically mentioned that no political party could be held responsible for such crimes and remedy lies in taking collective action.
GN Azad said: "No government or leader would want that such incident occurs in their state. This problem can't be solved by just making laws. To eradicate such acts, there's a need that we take a stand together against such crimes."
Strict punishment, no mercy: Azad
He believes that there is a need to create an environment in the society, and educational institutions against these crimes. Azad's statement in Rajya Sabha was brief, but he pointed out the real solution: Just making laws not enough, need to create an environment safe for women,
no-politics on this sensitive issue, and strict punishment to those found guilty.
In Rajya Sabha, lawmakers across the party lines have condemned the gruesome rape and murder.
Rajya Sabha MP Jaya Bachchan said: "These type of people (the accused in rape ) need to be brought out in public and lynched".
Vijila Sathyananth, AIADMK MP said: "Those who committed this crime should be hanged till death before Dec 31. A fast track court should be set up. Justice delayed is justice denied".
Rajya Sabha Chairman M Venkaiah Naidu said: What is required is not a new bill. What is required is political will, administrative skill, change of mindset and then go for the kill of the social evil.
Also read: Rape-murder in Hyderabad: What you can do if caught in a difficult situation