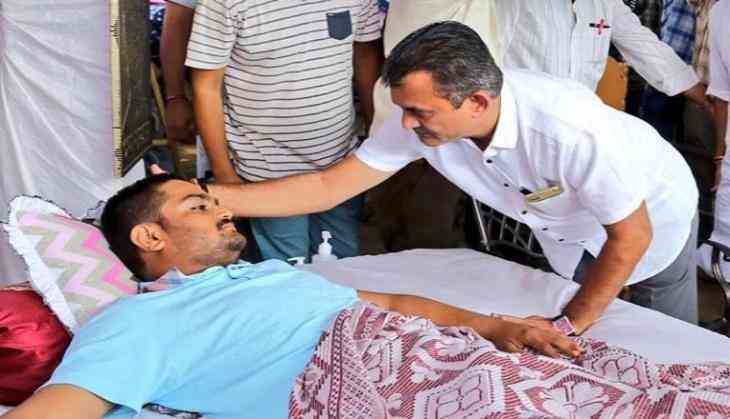 Hardik Patel, self-proclaimed Indian social activists is on hunger strike demanding for the Patidar reservation in Gujarat. Hardik Patel on his 9th day continued his fasting and released his Will and has named parents and gaushala in his it. Patel has divided his property between his parents, sister, the 14 youths killed during the 2015 quota stir in Gujarat and a Panjrapole (shelter for ill and old cows).
In his will, Hardik Patel has said that 15 per cent of royalties from an upcoming book on him should go to his parents, 15 per cent to his sister and the rest to families of the youths killed during the Patidar agitation, reported India today.
"Hardik Patel has expressed his wish to donate his eyes in case of his death," Patidar Anamat Andolan Samiti (PAAS) spokesperson Manoj Panara said. "We have advised him to be admitted to the hospital. His urine and blood pressure is normal, but Hardik has refused blood and urine tests," one of the doctors who checked on Patel said.
Hardik, who is sitting on hunger strike for the demand for reservation and loan forgiveness of farmers, has declared all his property in his to his parents its heir in his will.
Apart from this, here's full text what has been mentioned in his will.
-Declared his parents as the heir of his property
-He is a car owner, an insurance policy also named on him
-15% royalty of the book 'Who Took My Job' written on Hardik to his parents, 15% to his sister, and the rest of the royalty for the families of the youth killed in the Reservation movement.
-The desire to donate eyes after death
-Now, he has 50,000 cash amount, out of which 20 thousand to be shared with his parents and 30 thousand will be given for the gaushala.
Also read: Kanhaiya Kumar likely to contest Lok Sabha polls from Bihar's Begurarai on CPI ticket; RJD to back as Joint Opposition candidate Speed News Desk