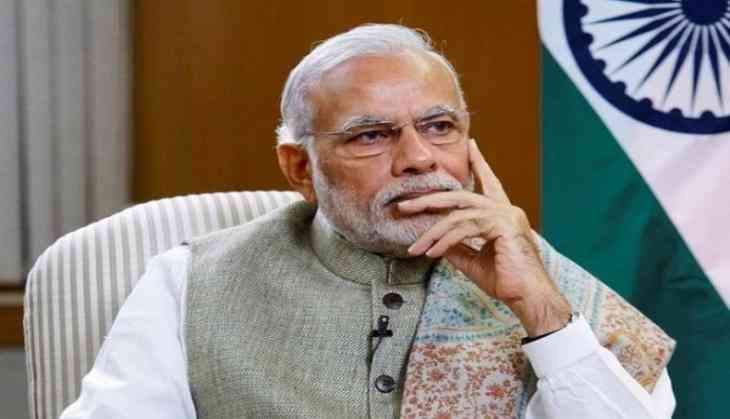 Gujarat floods: PM Modi to conduct aerial survey today
Prime Minister Narendra Modi will conduct an aerial survey of flood affected areas in Gujarat today.
Heavy rains in Gujarat in the past few weeks have created havoc in the state due to flooding in several parts of the state. Overall, 70 people have died in Gujarat due to rains till now, say reports.
Due to excessive rainfall and heavy flooding, water entered many houses and residential areas in Gujarat's Patan. The two dams in Gujarat - Sipu and Dantewada, both in Banaskantha - have been overflowing due to excess inflow of water and the heavy downpour adding more to it.
This overflow forced authorities to open seven gates of the Sipu dam and release 50,000 cusecs of water.
The Army and Air Force reached the flood-hit Deesa of Banaskantha district for rescue operations. However, the extreme weather condition, rains and poor visibility affected the operation for some time.
In Banaskantha district, 11,000 people have been evacuated. They have been given food packets and provided sheltered at a temporary relief camp
Having been severely handicapped due to extreme weather conditions for most of the day on Monday, the India Air Force (IAF) used a window of opportunity on Tuesday with slightly better weather conditions and launched 04 MI-17V5 helicopters for flood rescue and relief operations in Gujarat and Rajasthan.
All these IAF bases and assets fall under the operational control of the Gandhinagar based Headquarters South Western Air Command.
The states of Gujarat and Rajasthan were affected by severe flooding this month, with two people being killed in Rajasthan and forcing Gujarat to declare a high alert.
Nearly twenty-five thousand people have been evacuated from the flood hit regions, with rescue work still in operation.
-ANI