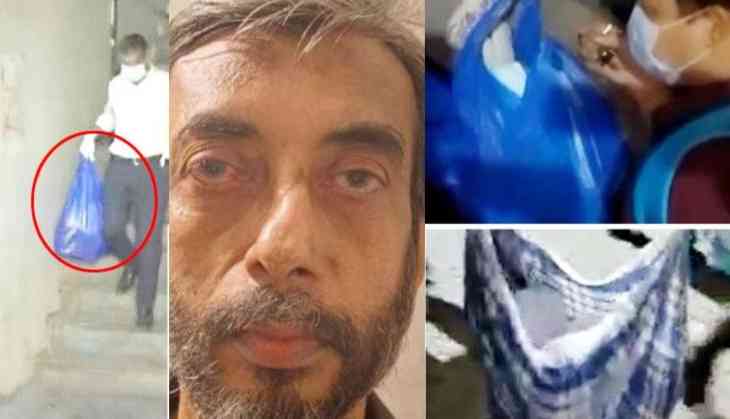 Mira Road Murder in Mumbai
Thane: In a spine-chilling murder case, a 32-year-old woman was brutally murdered and dismembered by her 56-year-old live-in partner in Maharashtra's Thane. The accused, identified as Manoj Sane, used a tree cutter to chop the victim's body into pieces.
To eliminate any foul smell, he boiled the body parts in a pressure cooker and then filled them in plastic bags for disposal. The shocking details of the crime have left the nation in disbelief, drawing comparisons to a similar incident in Delhi last year.
Accused's Gruesome Method: Boiling and Disposal
The accused, Manoj Sane, had been residing with his live-in partner, Saraswati Vaidya, in a rental flat in the Akashganga building in Mira Road for the past three years.
When the police entered the house, they discovered several body parts in utensils and buckets. It was confirmed that Sane had killed Vaidya and dismembered her using a tree cutter.
The body parts were then boiled in a pressure cooker, ensuring no foul smell would arise. Afterwards, the accused filled plastic bags with the remains for disposal.
No Feeding of Body Parts to Dogs, Contrary to Rumors
Clarifying earlier reports, the Deputy Commissioner of Police (DCP) of Mira-Bhayandar, Vasai-Virar Police, Jayant Bajbale, stated that while the accused did boil the body parts, he did not feed them to dogs. Bajbale confirmed that the body parts have been sent to JJ Hospital for further investigation. Manoj Sane has been arrested and is in police custody until June 16.
Investigation and Motive
The police received a complaint about a foul smell emanating from the couple's flat in the Akashganga building. Upon breaking open the door, they discovered the gruesome scene in the kitchen.
The investigation revealed that the murder was a result of a fight between the couple. Saraswati Vaidya is believed to have consumed poison during the altercation.
The police are conducting further interrogations to uncover the exact motive behind the murder.
Call for Vigilance and Shocking Lack of Awareness
Utkarsha Rupwate, a member of the Maharashtra State Commission for Women, expressed shock over the incident, emphasizing the importance of vigilance among neighbours.
Rupwate highlighted the need for communities to be attentive to each other's well-being to prevent such tragic incidents.
It is concerning that the incident remained unknown to the residents of the building for several days, underscoring the necessity of increased awareness and communication.
(With ANI inputs)