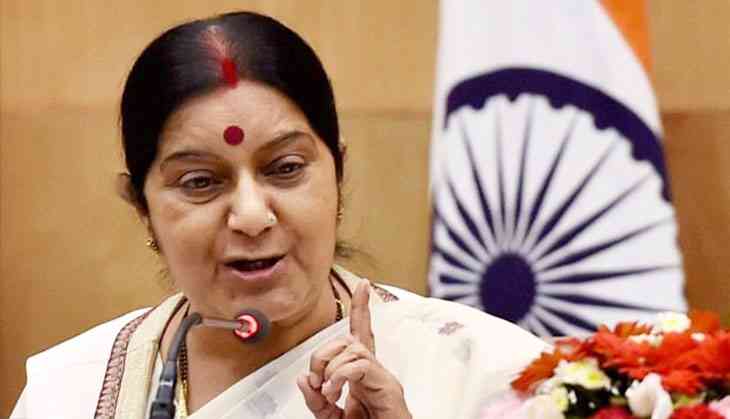 External Affairs Minister Sushma Swaraj
Now, you may not have to travel too far for getting your passport as the government has come up with a plan to open passport centres within a radius of 50 km.
External Affairs Minister Sushma Swaraj on Saturday announced the launch of 149 new Post Office Passport Seva Kendra (POPSK).
These will be in addition to 86 POPSKs announced by the Ministry of External Affairs in the first phase, an initiative undertaken jointly by the MEA and the Department of Post.
Since coming to power, the National Democratic Alliance (NDA) government has also opened 16 PSKs, with a priority given to northeastern states, Swaraj said.
Thus, the NDA government opened altogether 251 PSKs and POPSKs since it came to power in May 2014, she said.
Prior to this, there were 77 PSKs in the country.
The minister said when she took charge in the ministry, she realised that "proximity" was the biggest hurdle in applying for passports.
"We have set up a target that no one has to travel more than a radius of 50 kms to get a passport," she said, adding her ministry and the DoP are working to map 810 head post offices and extend the ambit of the scheme.
She also said more POPSKs will be opened in third phase after the completion of mapping and checking the viability of the post offices.
Swaraj also launched a portal for the Know India Programme (KIP), an initiative by the ministry for the Persons of Indian Origin (PIO) between the age group of 18 to 30 years. The aim of the KIP is to help PIO youths familiarise with their roots and contemporary India.
Launched in 2004, the scheme has 40 editions under which 1,293 PIO youths have visited India.
In 2016, the scheme was revamped to increase its duration from 21 to 25 days, with a 10-day visit to one or two states and preference given to PIOs from Girmitiya countries.
From 2016, six KIPs a year are being organised.
Vani Roa, joint-secretary (Overseas Indian Affairs) said through the portal, the interested participants can directly apply for the programme. Earlier, those interested in the programme had to send an email to India high commissions and embassies to apply for it.
Referring to Girmitiya countries, Swaraj said the Britishers took several Indians to their colonies, primarily in Africa and the Caribbean by signing an agreement.
However, in colloquial parlance, the agreement became "grimit" as they could not pronounce the word agreement.
The countries where these Indians were taken under the "pretext of giving a good job" by signing such agreements became "girmitiya" countries.
-PTI