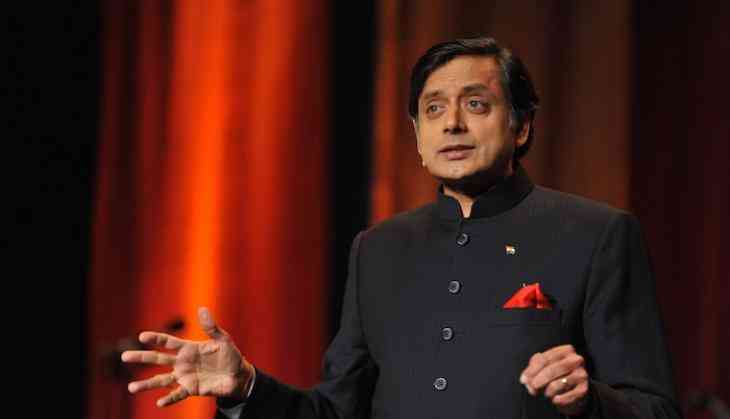 Congress leader Shashi Tharoor has kicked up a row with remarks that no "good" Hindu would favour a Ram temple in Ayodhya by demolishing somebody else's place of worship, drawing stinging criticism from the BJP which dubbed his party and its chief Rahul Gandhi "anti- Hindu".
Tharoor, the MP from Thiruvananthapuram, made the comments at an event in Chennai on Sunday.
"As a Hindu, obviously, I am conscious that a vast majority of my fellow Hindus believe that that was the specific birthplace of Ram.
"For this reason, most good Hindus would want to see a Ram temple at the site where Ram was supposed to be born. But I also believe that no good Hindu would have wanted that a temple be built by demolishing somebody else's place of worship," he said.
The BJP hit back at Tharoor over his remarks, with the party's national spokesman Sambit Patra saying they "exposed" the real face of Rahul Gandhi.
"Rahul Gandhi's real face stands exposed," Patra told a tv news channel, criticising Tharoor's comments. He made a reference to the Congress president's frequent visits to temples in election-bound states.
He said while Gandhi "does fancy dress shows" by visiting Hindu temples, a leader of his party makes such comments.
"These remarks completely expose the Congress....Rahul Gandhi. They are anti-Hindu," he said.
Tharoor insisted his comments were personal and not those of his party. His remarks, Tharoor insisted, were distorted out of malice.
"I was asked for my personal opinion at a literary festival & gave it as such. I am not a Spokesperson for my party & did not claim to be speaking for @incindia," he tweeted.
"I condemn the malicious distortion of my words by some media in the service of political masters. I said: most Hindus would want a temple at what they believe to be Rams birthplace. But no good Hindu would want it to be built by destroying anothers place of worship."
Senior BJP leader Subramanian Swamy said Tharoor was trying to "arrogate" to himself spiritual powers and that he has his "lost balance".
"He is no authority on Hindu. He has led a life which has nothing to do with Hinduism. He is arrogating to himself spiritual powers or powers of religious authority. He has lost his balance," Swamy said.
Tharoor had sparked off a controversy in July with comments that if the BJP was voted to power again, it will rewrite the Constitution that will eventually create a "Hindu Pakistan".
At an event in Thiruvanthapuram, Tharoor said, "If they are able to win a repeat of their current strength in the Lok Sabha then, frankly, our own democratic Constitution, as we understand [it], will not survive... because then they will have all the three elements they need to tear up the Constitution of India and write a new one."
"And that will enshrine the principle of Hindu Rashtra, that will remove equality for the minorities, and that will create a Hindu Pakistan...and that is not what Mahatma Gandhi, Nehru, Sardar Patel, Maulana Azad and great heroes of freedom struggle fought for," he noted.
The Congress had distanced itself from Tharoor's comments.
-PTI