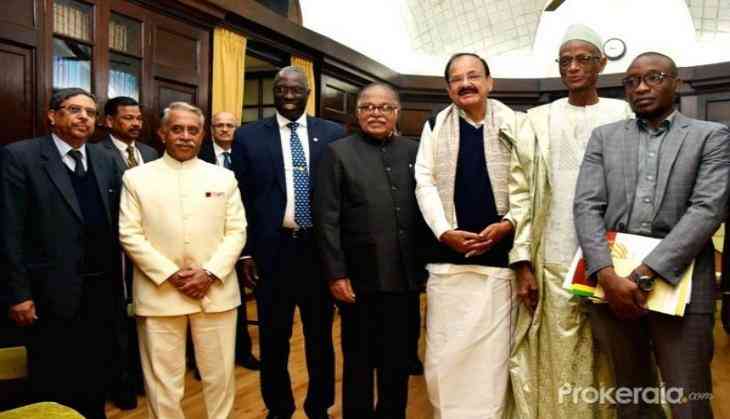 Vice President M Venkaiah Naidu on 21 December said terrorism and radicalisation remain common challenges for India and Mali, besides other parts of the world. He was interacting with a three-member delegation led by Mr. Abdrahamane Niang, the President of the High Court of Justice.
Deputy Chairman of the Rajya Sabha, Dr. P.J. Kurien, the Secretary General of the Rajya Sabha, Desh Deepak Verma and other dignitaries were present on the occasion.
Vice President Naidu said India stands ready to extend Lines of Credit in projects of renewable energy sector in Mali, adding that India has already extended the Duty Free Tariff Preference Scheme to Mali. Indian importers are availing the benefits. India is committed to further strengthen its developmental cooperation partnership with Mali, he added.
He said the world heritage site of Timbuktu with its repository of invaluable Islamic scriptures and manuscripts is a unique cultural asset for the entire world. He further said that India shall keenly look forward to the early inauguration and opening of the Exhibition "Taj Mahal meets Timbuktu" in India.
Naidu congratulated the Government of Mali on the establishment of G-5 Sahel Joint Force which will contribute to unity, peace, development and prosperity of Mali and the region.
-ANI