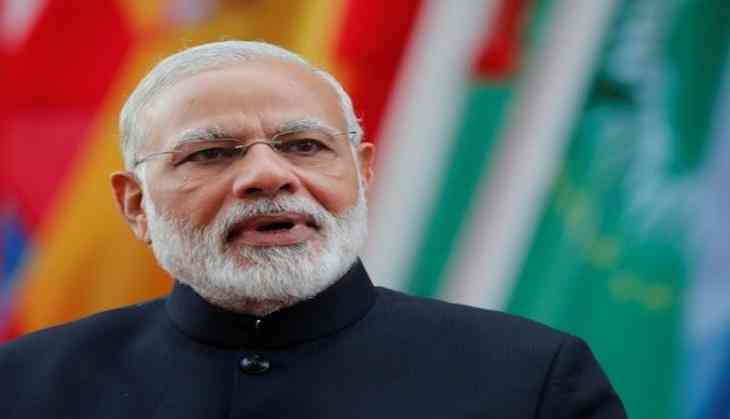 Prime Minister Narendra Modi on Monday asked states to follow the Union Territories of Chandigarh and Puducherry, who have closed the PDS system and have successfully implemented 100 percent Direct Benefit Transfer (DBT) scheme.
Addressing BJP MPs of northern states in Delhi, Prime Minister Modi said that "Everyone should get the benefits of the central government's schemes and programs."
Prime Minister Modi held the 6th round of informal meeting with Bharatiya Janata Party (BJP) MPs of Punjab, Chandigarh, Haryana, Delhi, Uttarakhand, Himachal Pradesh and Jammu and Kashmir at his residence on Monday. Union Minister for Parliamentary Affairs Ananth Kumar also attended the meeting.
He said, "Due to the closure of the PDS system in Chandigarh and Puducherry, the money is being deposited in the beneficiary's account directly."
He added, "This system should also be implemented in other states."
During the meeting, the Members of Parliament (MPs) of northern states discussed various issues with the Prime Minister and apprised him about the growing faith of public towards policies of the government.
They also informed the Prime Minister as to how the public and small traders are supporting the Goods and Services Tax in their state.
The Prime Minister said that every businessman should register themselves in the GST.
Talking about the Pradhan Mantri Vaya Vandana Yojana (PMVVY), PM Modi appealed to the MPs representing various states to ensure that the adult citizens gets maximum benefit from such social security schemes introduced by the Union government, and said that only eight percent interest has been fixed in this scheme.
Prime Minister Modi said that several new schemes for development have been implemented in the Himalayan states which have changed the lives of these hill states.
He further said that huge potential for employment and tourism development has been emerged in these hill states.
Prime Minister said that ban on kerosene in Haryana and Chandigarh has ended the corruption in its allocation in these states.
BJP members of Parliament should take the work done by the NDA government to the public was the message given by Prime Minister Narendra Modi to the MPs of northern states.
Modi has been regularly meeting with BJP MPs from various states in groups and such meeting are seen as an attempt by the Prime Minister to prepare for general elections in 2019.
-ANI