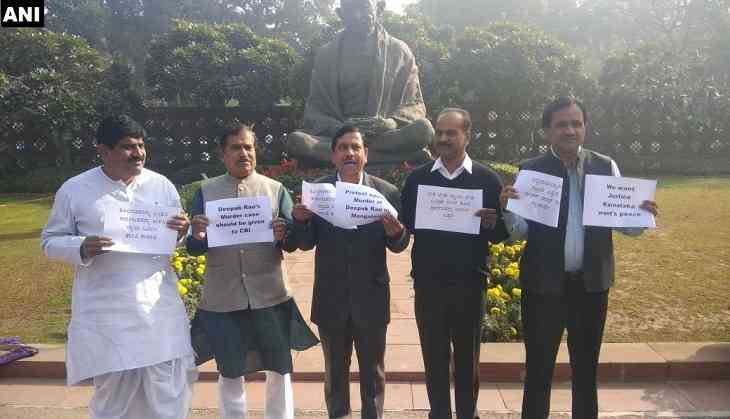 An FIR has been registered against Gujarat Independent MLA Jignesh Mevani and JNU student leader Umar Khalid under section 153(A), 505 and 117 at Pune's Vishrambaug Police Station.
The Mumbai Police have also denied permission to an event, which was to be attended by Mewani and Khalid, after the shutdown called by Dalit groups across Maharashtra on Wednesday.
Sagar Bhalerao, the vice president of Chhatra Bharati and the organiser of the event told ANI that the event was fixed earlier, but at that time the police did not raised any objection to it.
"We had booked Bhaidas Hall for All India National Students' Summit here today, but now we are being denied entry. The police is citing the news doing the rounds about Umar Khalid and Jignesh Mewani for the past few days as a reason behind cancelling the event," said Bhalerao.
They have been sent notice under section 149 of the Code of Criminal Procedure (CrPC ).
Meanwhile, the police has detained all the students gathered for Chhatra Bharati event outside Bhaidas Hall.
Earlier, right-wing groups accused Mevani and Khalid of inciting caste tension in the state. The Police even received a complaint against them for their provocative speeches.
Mevani and Khalid allegedly made provocative speeches while attended the "Elgar Parishad", event organised to commemorate the 200th anniversary of the battle of Bhima-Koregaon.
A day after this incident, clash broke out between Dalits group following the death of a youth in clashes on January 1, during an event, to mark 200 years of Bhima Koregaon battle near Pune.
In the aftermath, a day-long 'Maharashtra bandh' was called by various Dalit and other organisations.
The bandh was, however, called off later in the day.
The Battle of Koregaon was fought on January 1, 1818, between the British East India Company and the Peshwa faction of the Maratha Confederacy, at Koregaon Bhima.
The Marathas ultimately withdrew, fearing the arrival of a larger British force.
The Company troops of Indian origin included predominantly Mahar Dalit soldiers belonging to the Bombay Native Infantry. The Dalit activists regard the battle as a heroic episode in their history.
-ANI