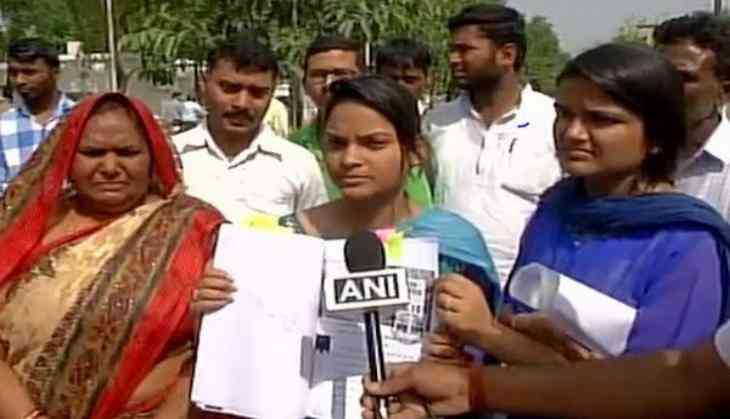 Family of rape-accused Gayatri Prajapati approaches UP CM seeking justice (ANI)
After Allahabad High Court cancelled the bail of rape accused Gayatri Prajapati, a family of the former Uttar Pradesh minister on Monday sought Chief Minister Yogi Adityanath's help for justice. Prajapati's wife and daughters went to meet Adityanath at his residence.
"We could not meet Adityanath today but met a minister there who assured us that he would look into the matter and also take the issue to the Chief Minister soon. He also assured us that, if Prajapati is being falsely accused of the crime, then justice will be given to him without any delay," Prajapati's daughter told ANI here.
Prajapati's family further stated that they have all proof that he was falsely accused of rape and fervently demanded justice.
"We have proof that Prajapati has been falsely accused of this crime and will also show it to Adityanath soon. Even the police have no proof against Prajapati so then why to delay in giving justice," his daughter added.
Yesterday, Additional Sessions Judge Om Prakash Mishra who granted bail to the rape accused Samajwadi Party leader and former minister Gayatri Prajapati was suspended. The court has also ordered a departmental inquiry against the judge.
According to reports, Justice Sudhir Agarwal will conduct the probe against the judge. The news was confirmed by Registrar general D.K. Singh. The Lucknow bench of the Allahabad High Court on Friday stayed the bail given to Prajapati in a rape case by a local court.
Prajapati, who was arrested in connection with a case of an alleged sexual assault of a minor girl, was released from the district jail in Lucknow earlier on Wednesday. Prajapati was earlier granted bail by a Protection of Children from Sexual Offences (POCSO) court, Lucknow.
Two associates of Prajapati were also given bail. The court asked them to furnish two sureties of Rs one lakh each and a personal bond of the same amount as a condition of bail.
Prajapati was arrested on March 15 from the Aashiyana area in Lucknow by the Uttar Pradesh Special Task Force (STF). The Samajwadi Party leader, who was also accused of allegedly raping the girl's mother, evaded his arrest for nearly a month before he was arrested.
Earlier in February, a police complaint had been filed against the former minister and six others in the case following the Supreme Court's order. The Uttar Pradesh Police had also filed a non-bailable warrant against the former minister and six others for the same.
-ANI