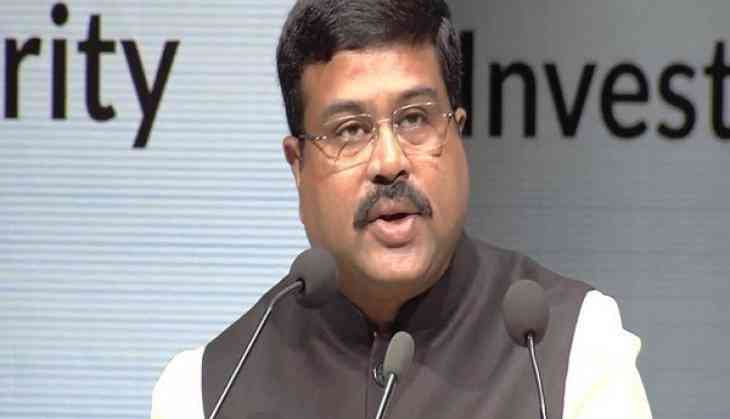 Union Minister of Petroleum and Natural Gas, Dharmendra Pradhan, on Saturday, said that Tripura is country's number one gas producing point and every poor household in the state will have LPG connection in 2019.
He said that ONGC Tripura has recorded its highest ever production at 4.96 MMSCMD (Million Metric Standard Cubic Meter Per Day) on Saturday.
"Not only 5 MMSCMD but we can produce 10 MMCMD from here for the upcoming 15-20 years," said Dharmendra Pradhan.
"We will try that in 2019 itself none of the poor households in Tripura is without an LPG connection," said Pradhan.
"The ONCG will fulfil all the energy requirement of the state with regard to power plants, domestic industries, transportation and domestic fuel," said Pradhan.
He said that ONGC Tripura can be the largest contributor in realising the dream of Prime Minister Narendra Modi's "New India".
During a programme at the ONGC Tripura Asset headquarter in Badharghat, the Union Minister along with the Tripura Chief Minister Biplab Kumar Deb digitally inaugurated and laid foundation for four projects including ONGC Sonamura Gas Collecting Station, first PNG Connection in West Tripura district, first CNG Station in Gomati and National Skill Training Institute for Women at Agartala.
Pradhan said that Northeast is the energy storehouse in the form of a huge quantity of crude oil or natural gas found in this region.
The Union Minister said that an LPG bottling centre is coming up in the outskirts of capital Agartala and to avoid the uncertain hilly route from Guwahati, the Government of India has got it cleared from the Bangladesh government to bring LPG through the Chittagong port so that there is a steady supply of LPG to Tripura round the year.
He said, in addition to this, 40 more LPG distribution centers and 150 fuel filling centers are going to come up in Tripura.
The Union Minister also declared the setting up of National Institute of Skill Trainer in Tripura at the cost of Rs 16 crores for enhancing the income of the women, especially in the SHG and household bamboo handicraft sector through advanced training.
Tripura Chief Minister Biplab Kumar Deb thanked the Union Minister for announcing various new projects for the development of the state through collaborative efforts of both the central and the state governments for better facilities and utilising of the available resources including human resource.
-ANI