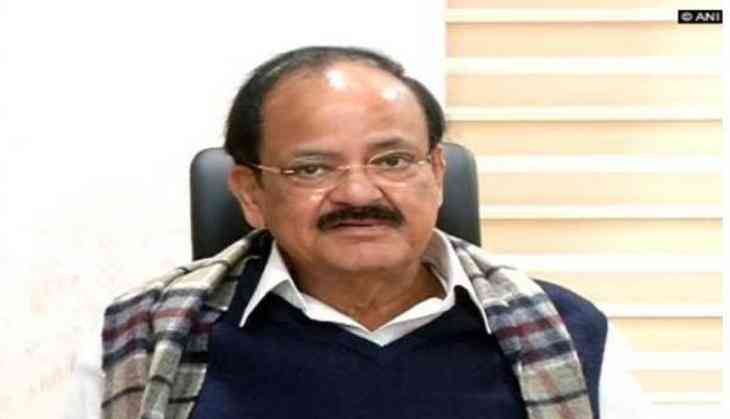 Vice-President M Venkaiah Naidu today stressed on the need to encourage voluntary eye donation, and said this "sublime ethos" must be inculcated among children in schools.
There was a need to involve the Panchayati Raj institutions and urban local bodies, besides enlisting the support of private sector and NGOs to augment the Central government's efforts to provide comprehensive eye care services, he said.
Eye doctors and surgeons will play a very important role in this, even as there was a need to devise multi-pronged strategy for strengthening preventive and curative eye care, he said in his address at the 32nd Intraocular Implant and Refractive Surgery Convention here.
"We also need to encourage people to voluntarily pledge eye donation. I am happy that NPCB (National Programme for Control of Blindness) has set a modest target of 50,000 eyes donation in the year 2017-18 and against this, we have achieved 69,343 eyes donation," he said.
This was a very encouraging trend, he said, and urged higher targets be set and achieved in this regard in the future.
"The sublime ethos of helping a vision impaired person to gain eyesight through voluntary eye donation must be inculcated among the young children in the schools," he said.
Naidu also said the mass media can play an important role in popularising eye donation.
Ruing the changing lifestyles, he said there was little physical activity in the modern days, and urged the people, especially youngsters, to focus on physical fitness.
"It is no secret that eye ailment is a major problem among the young children. We feel pity to see young school-going children wearing spectacles."
"This has something to do with our food habits and also lifestyle. I always insist on one thing whenever I go to a medical conference-- we have to educate the people about the need to go back to the original lifestyle," he said.
Due to a changing lifestyle, "there is no physical activity at all," the Vice-President said.
"As a result, we are all getting different ailments, particularly diabetes. People say, health is wealth. If you have health, you can acquire wealth, but if you have wealth there is no guarantee that you will have good health," he said.
He further said, "the younger generation especially must focus on some kind of physical activity."
"We have to revisit the entire system...I always tell people love and live with the nature. That is very much required. I am stressing on this because diseases are becoming prevalent," he said.
Naidu said there used to be an impression that urban school children were more prone to eye ailments but that even their rural counterparts are "suffering from myopia."
"Excessive exposure of children to video games, mobiles, computers and televisions has been adversely impacting their eye health," he said.
On the Centre's
National Health Protection Scheme, he recalled the government having proposed a budgetary allocation of Rs 54,667 crore for the current year.
The scheme involves providing medical cover of up to Rs 5 lakh to over 10 crore poor and vulnerable families.
"I am told the Union Health Ministry has already drawn up the details of the scheme and this will be soon rolled out.
No longer the poor people are going to suffer because of their financial constraints," he said.
Naidu also urged medical practitioners to have a "missionary attitude" to serve people.
Referring to various central government schemes like Skill India and Smart Cities, Naidu said they were aimed at ensuring change for the betterment of people.
India was the "most attractive place for business", and efforts were on to ease doing of business, Naidu said.
(PTI)