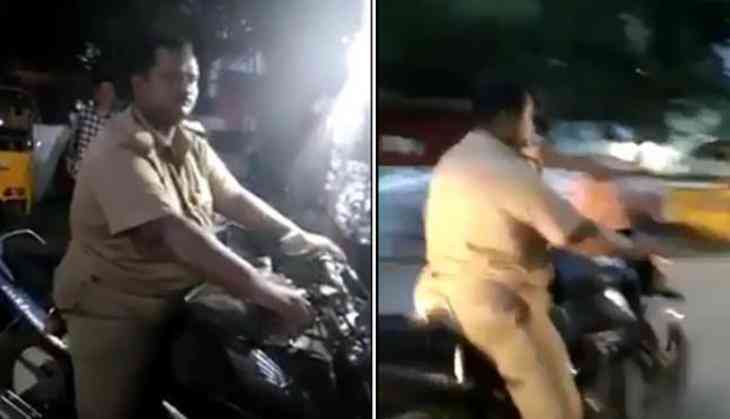 Safety is the major concern for us, and what if a responsible police officer doesn't follow this? Recently, a 35-year-old Coimbatore policeman was driving a motorbike without wearing a helmet. But what wrong in this was that he was drunk and in inebriated state. An onlooker also filmed the ride of the police constable, which later went viral on social media.
The Coimbatore police constable, identified as Vinoth of Rathinapuri was suspended after the video went viral on the internet. "He was earlier working at the Race Course police station and was removed from service after he had a fight with senior police officers there. But he moved the high court and got the dismissal revoked. He had rejoined police department two years ago and was posted at the Selvapuram police station," a police officer said.
Vinoth often turned up drunk on duty, the officer said. "He was on the way to the station on a motorcycle last Friday night. As he was heavily drunk, he was not able to ride the motorcycle properly. While he was passing through Selvapuram, someone made a video of him riding the two-wheeler and posted it on WhatsApp. It went viral on Monday," the officer told TOI.
As soon as the video went viral, a city police officers prepared a report of the incident and submitted it to police commissioner K Periaiah, who placed Vinoth under suspension and initiated a departmental inquiry against him.
Also read: After divorce, husband pays alimony to ex-wife that she took a whole day to count!