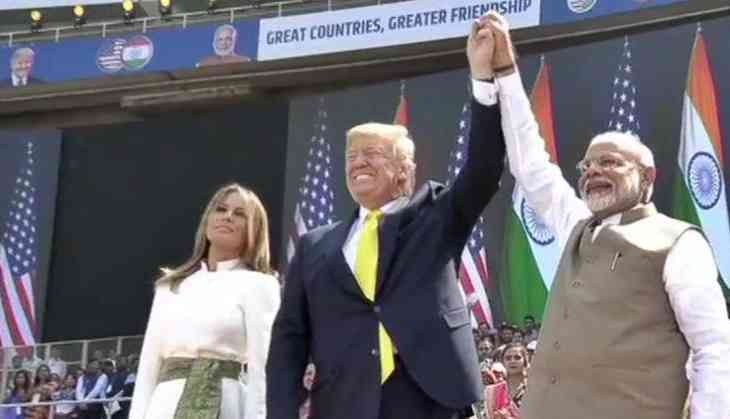 US President Donald Trump today stated "America will always remain a loyal friend to India" as he made an address to a houseful stadium in Ahmedabad, hours after landing in Ahmedabad with First Lady Melania Trump. "Namaste, America loves India," President Trump said, drawing applause from the crowd.
"Namaste, Trump," PM Modi said, opening his speech. "America-India relationship is no longer just another relationship, but an inclusive and exhaustive partnership," PM Modi said. President Trump commended India's programmes to give electricity to millions of homes and other policies that have helped the country sprout.
Here are the top 10 points:
1) "It is our pleasure to welcome and greet President Donald Trump, First Lady Melania Trump, Ivanka Trump and Jared Kushner... Their visit to India shows the importance the closeness in ties we share," PM Modi said.
2) "The rise of India in the last seven decades has been remarkable... The pace at which it has grown in the last two decades is phenomenal... The people of India are an inspiration for the rest of the world," President Trump said.
3) "I would like to begin by thanking my special friend, Prime Minister Narendra Modi. The Prime Minister - the son of a tea seller in this very city - has had a remarkable rise... He is a great man. Everybody loves him, but he is a very tough guy," President Trump said.
4) The two-day visit comes prior to President Donald Trump's re-election, the United States goes to vote in November, and just months after 'Howdy Modi'. Trump's visit also comes in the middle of tense trade talks between the two nations.
5) President Donald Trump's cavalcade passed through the Ahmedabad's Sardarnagar area, which holds several slums. A four foot tall wall has been constructed along this section, which residents say is intended to hide the poor people. Prior to Trump's visit. Local officials, said that decision to construct the wall was taken before the presidential visit.
6) At Sabarmati Ashram, the US President and the First Lady tried their hand at spinning the charkha as PM Modi elucidated the importance of the traditional spinning wheel. PM Modi was witnessed showing the Trumps around the ashram and explaining the marbal depiction of three monkeys to the First Lady.
7) President Trump and his family were served high ta, which reports said, had broccoli samosas and apple pie. 'Namaste Trump' is beeing seen as a parallel to the lavish 'Howdy Modi'
7) From Ahmedabad, US President and his family will go to Agra to visit the Taj Mahal, which has been treated to several rounds of beautification with the help of mud pack. Donald Trump and his family will fly to the national capital this evening for the operative part of the visit, which includes high level talks.
9) Besides growing protectionism, Donald Trump's visit also comes against the backdrop of India's multibillion-dollar purchase of a Russian missile shield system, which had added friction to its relations. Among other issues the two leaders will discuss during this visit is religious freedom in India.
10) Melania Trump's scheduled visit to a Delhi government school has also drawn controversy after Delhi Chief Minister Arvind Kejriwal and Deputy Chief Minister Manish Sisodia were excluded from the event.
Also Read: Congress' Manish Tewari on Donald Trump visit: India has been reduced to lowly buyer from strategic partner
Also Read: US embassy wades into dispute on Melania Trump school visit snub to AAP leaders