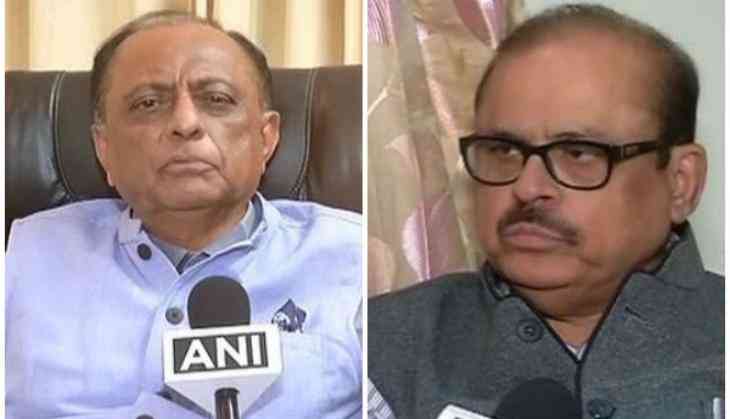 Digvijaya must enquire before making 'irresponsible comments': NCP (ANI)
Condemning Congress leader Digvijaya Singh's statement that the Telangana Police have set up a fake ISIS site to radicalise Muslim youth, the Nationalist Congress Party (NCP) on Tuesday said the remark made is without any substance, adding the Muslim community teaches peace and harmony to the youth.
'It is very unfortunate that a political leader like Digvijaya Singh made such statement. This statement is without substance and I think he should make inquiries before making such irresponsible comments,' NCP leader Majeed Memon told ANI.
He further said that the Bharatiya Janata Party (BJP) members make such statements.
'I must tell Singh and the whole country that the Muslim community has sent a very strong word to all Muslim youth throughout that they have to be patriotic, nationalist and have to at all cost ensure that they have nothing to do with terrorism at all. Their parents and teachers are there to teach them the path of peace, love, affection and brotherhood, not the violence or terrorism. This is not correct information which he has,' Memon asserted.
Meanwhile, another NCP leader Tariq Anwar said he doesn't know from where Singh got the information. 'I don't know from where he got to know about this. I cannot comment on it,' he said.
Singh, who is known for making controversial statements, yesterday shocked everyone by claiming that the Telangana Police have set up a fake ISIS site to radicalise Muslim youth.
In a series of tweets, the Congress leader said, 'Telangana Police has set up a bogus ISIS site which is radicalizing Muslim Youths and encouraging them to become ISIS Modules. It was on their information that MP Police arrested accused who were responsible for the bomb blast in a train in Shajapur District of MP.It also resulted in Saifullah encounter in Kanpur the same day.'
'The issue is whether Telangana Police should be trapping Muslim Youths in becoming ISIS modules by posting inflammatory information? Is It Ethical? Is it Moral? Has KCR (Telangana CM) authorized Telangana Police to trap Muslim Youths and encourage them to join ISIS? If he has then shouldn't he own the responsibility and resign? If he hasn't then shouldn't he enquire and punish those who are responsible for committing such a heinous crime? I agree but what about the Telangana Police which is posting inflammatory postings to radicalize Muslim Youth through their fake ISIS site?' he added.
Singh while defending himself, asserted that the information was all gathered based on 'sources'. Addressing the media here on Monday, Singh clarified that the tweets were based on discussions that took place during an Anti-Terrorism Squad (ATS) meeting held last week.
'During the ATS meeting, it was revealed that the Madhya Pradesh Government derived its information on those involved in the train blast in Shajapur district and the subsequent encounter of Saifullah in Kanpur from the Telangana Police, which found photographs of the blast that were sent to the ISIS,' he said.
'To curb the increasing radicalisation among the Muslim youth, the Telangana Police took up the initiative with a good intention, but the method was wrong,' Singh added.
The Telangana Police have, however, said that the Congress leader has made 'unfounded allegations' which would lower the morale of security forces fighting against anti-India forces.
'Unfounded allegations from a senior responsible leader will lower the morale and image of Police engaged in fighting anti-national forces and it,' Telangana DGP tweeted. Telangana minister K.T. Rama Rao demanded an 'unconditional apology' from the Congress leader.
-ANI