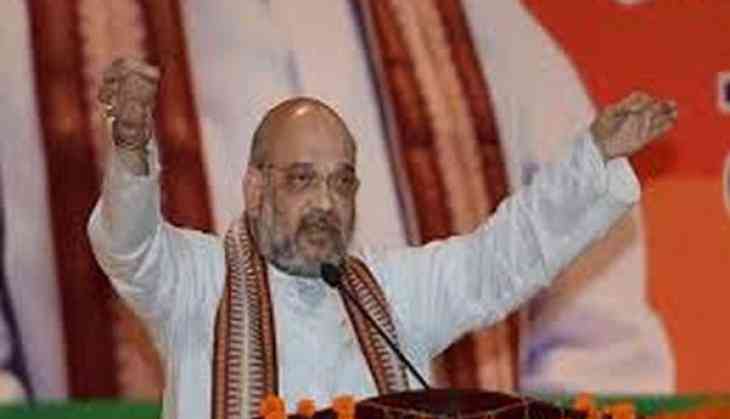 Bharatiya Janata Party (BJP) chief Amit Shah on Thursday hit back at Congress president Rahul Gandhi after the latter accused the BJP of murdering the democracy.
Shah tearing into Gandhi said that the democracy was murdered by the Congress the minute it decided to ally with the Janata Dal (Secular) (JD-S) for political gains.

Shah continuing his tirade against the grand old party chief said that it was at the time of emergency imposed by the latter party that the constitution of democracy was heavily damaged.

"The 'Murder of Democracy' happens the minute a desperate Congress made an 'opportunist' offer to the JD(S), not for Karnataka's welfare but for their petty political gains. Shameful!," Shah Tweeted.
Rubbishing all allegations, the BJP chief said that it was his party who won the mandate of the people by securing 104 and not the Congress or the JD (S).
"Who has the people's mandate in Karnataka? The BJP, which has won 104 seats. Or Congress which dropped to 78 seats, whose own CM and Ministers lost by big margins. JD(S) who won only 37 seats and lost their deposits on several others. People are wise to realize," he tweeted.
Earlier in the day, Gandhi accused the BJP of making a mockery of the Indian Constitution. Rahul taking to his Twitter handle said that this day India will mourn the defeat of democracy.

"The BJP's irrational insistence that it will form a Govt. in Karnataka, even though it clearly doesn't have the numbers, is to make a mockery of our Constitution," Gandhi Tweeted. "This morning, while the BJP celebrates its hollow victory, India will mourn the defeat of democracy," he added.

Yeddyurappa took oath as the 23rd chief minister of Karnataka after the Supreme Court early today morning decided not to put a stay on the swearing-in while conducting a post-midnight hearing, wherein Congress and JD(S) pleaded for the same citing BJP's inadequate strength in the assembly to stake claim at forming the state government.

Late last night, Congress and JD(S) challenged Karnataka Governor Vajubhai R. Vala's decision in the top court to invite BJP to form the government even when the saffron party, with 105 MLAs, including one Independent MLA, is seven short of the halfway mark of 112.

They contended that they, with a total strength of 115 MLAs, are in a better position to form the government.
Though Vala invited the BJP to form the government, he has given 15 days to the saffron party to prove its majority in the state assembly.
(ANI)